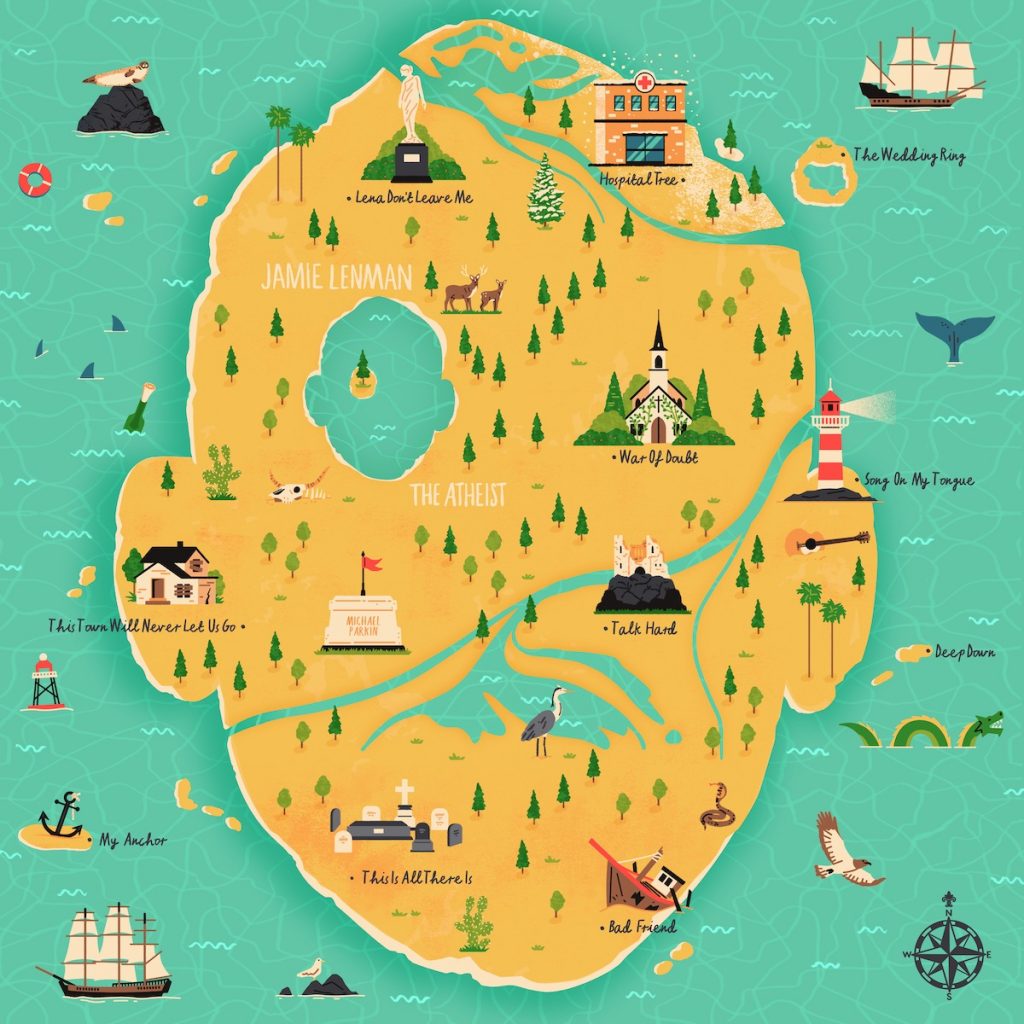 Record Store Day is a day for the people who make up the world of the record store—the staff, the customers, and the artists—to come together and celebrate the unique culture of a record store and the special role they play in their communities. To mark this year's Record Store Day, we spoke to Yamaha artists Steady Holiday, Jamie Lenman, and Chris Buck about their latest releases, to learn about the music, as well as the process of recording and releasing on vinyl.
Jamie Lenman – The Atheist
Hi Jamie, your latest album The Atheist was released in November, what's the story behind the album?
The Atheist was something I'd wanted to do for a long time, to make an album of sad indie songs with big melodies, a lot less aggressive than anything I'd done before (with the possible exception of the second disc of Muscle Memory, which is very folky). So, any time in the past twenty years or so I had a song which seemed a little bit softer, I put it away in a little box waiting for a time when I had enough to make a record. I even recorded two of the Atheist tracks for my Muscle Memory album ten years ago, but they were two rocking for the soft side and two sweet for the heavy side. I guess The Atheist represents that middle ground.
Can you walk us through the journey of creating the album from inspiration to release?
A lot of it was about waiting – waiting until I had enough songs, waiting until the right time. I also had to make sure I got the right sound too, which meant waving goodbye to Space, who'd produced my last three albums. I mean, I'm sure he could have conjured something very close to what I was after sonically, but it would still have had his signature on it, and I wanted something completely fresh. I did a few sessions with a few different producers and settled on Mark Roberts, who's made some amazing albums for bands like Black Peaks and The St Pierre Snake Invasion. I wanted it to sound raw and live, very honest and open, with a warm feeling and tactile textures. I wanted to make a positive-sounding album and I think it worked.
Tell us about recording the album.
We did a few test recordings and then we spent a week at the Old Chapel in Chichester recording the basic tracks. I played all the drums, piano, and brass at these sessions, and then later I filled in the vocals and guitars at his home studio in Haywards Heath. We had a couple of guests come in to play strings and one guitar solo but otherwise it's all me, which was something else I'd wanted to do for a long time. Then it was an agonizing period of waiting whilst everything is mixed and mastered and sorted out by the record label, as it always is. By the time the summer came around, I was able to play some of the new material live which was a huge relief, and then by November it was released into the wild – just a couple weeks after I turned forty.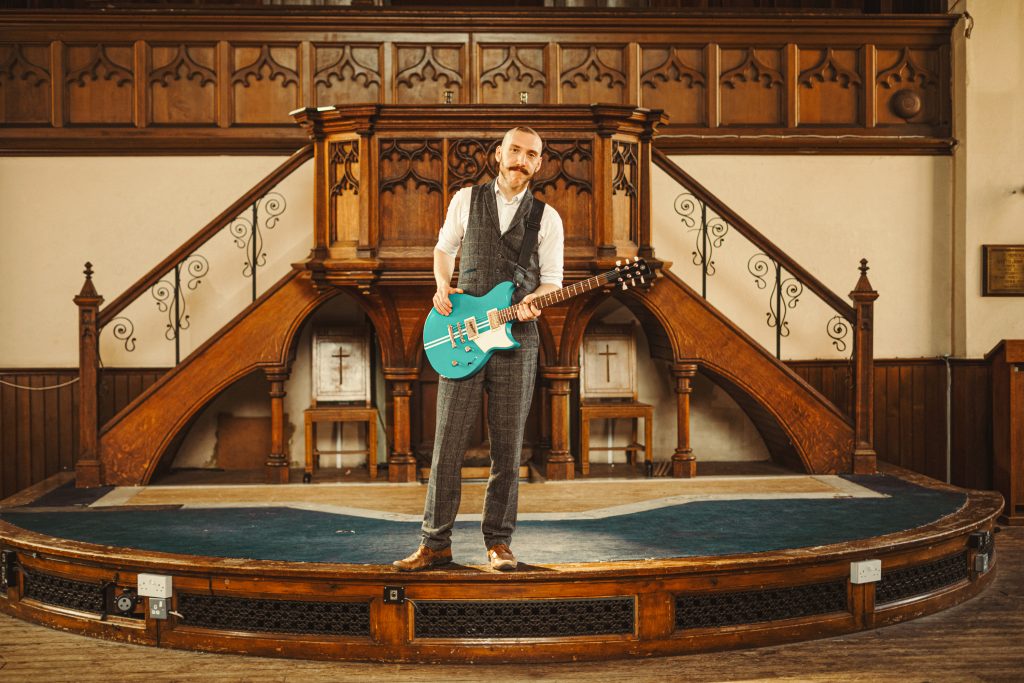 How did you decide on the order of the tracks?
Deciding the order of tracks was very tough and went round and round between me, my label, my press team, and the producer. We always knew we would end up with more tracks than we needed for an album and there were lots of ideas about what we could use the leftovers for, but it was crucial that the eleven or so songs we chose for the album fit together best and told the most cohesive story. Some of the track listings that I had decided upon were really bizarre, without any of the more commercial singles, and then my manager stepped in and saved the day; he put all the big pop tunes on side A and all the more thoughtful stuff on side B. I'd have been tempted to break it up a bit, but he wanted to create a more sustained attack on the senses so that by the time you've had all this sugar in the first twenty minutes you're ready to get a bit philosophical in the second half. I'd never have thought to do it that way, but it works great.
Do you have a favourite song?
My favourite song is definitely This Town Will Never Let Us Go, purely because I worked so hard on it. I knew I wanted to tell a story about people in difficult situations and I wanted to write music that would support those emotions without cheapening them – but also, I had to tread carefully with the lyrics to make sure I wasn't exploiting or sensationalising them. Some of the stuff in there happened to people very close to me, whereas some of the other stuff is imagined or extrapolated, but you can bet it's affected somebody somewhere, so I wanted to respect that. I sang my heart out on that tune, from the whispers at the start to the yelps at the end, and I think it might be the thing I'm most proud of.
How important is vinyl to you as an artist?
Back when I was in my band, they put our first album out on vinyl and it felt like winning the lottery. Then later they said they weren't gonna do it for the second one and we were heartbroken. Gradually, vinyl sales came creeping back until most of my sales are on wax, and we even went back and re-released the old albums as proper records, which felt great. When I was a kid I couldn't afford new CDs on my allowance, so I used to call around second-hand stores or jumble sales and pick up old LPs for 50p each and play them on a big old hi-fi in my bedroom. So most of my early music collection – lots of Queen, Beatles, and Madness – was on vinyl. I was born in the twentieth century and I can't change that, so I have a big attachment to physical items, the bigger the better! There's nothing like putting the needle in the groove and hearing your own voice come out – it never gets old.
What goes into releasing an album on vinyl? Can you tell us about the process?
For me, all I do is hand my mixes over to the mastering engineer and they'll fix it so the things doesn't fly off the turntable cos it's too loud etc. Then after a long wait (turnaround times keep getting longer) you get a big box of test pressings, which is always exciting. This is your last chance to hear if there any mistakes on the record before they press thousands and thousands, so it's a tense moment. In the meantime however, I'll have been getting all the art together in photoshop, writing out all the lyrics and the credits and laying it all out. As a designer, this is actually my favourite part of the process, although it can be frustrating if you're doing it for someone else – so doing my own is always a treat. I always agree with my own design decisions! Then eventually a huge box will arrive with samples of the finished thing, and in many ways it's like a birth. You get to see this thing that has so far only existed inside of you become real and tangible and, ultimately, separate from you. I don't want kids – just a rack full of albums!
What was the inspiration behind the artwork and overall design?
I've known illustrator Michael Parkin for years and always admired his work, and as soon as you get two artists together they begin to come up with ideas on how they could collaborate. For me, it's always been tough because I like to make my own art, and more than that, I like to be in control. But as soon as I came up with the idea of this softer, more mellow album The Atheist, I thought it was maybe something that would suit Parkin's style of art very well. He'd been doing a lot of maps at this point for various travel magazines, and I thought could be a good concept, so I asked him to draw an island in the shape of my head with all the songs as places on the map. It sounds very simple and I thought that would be it, but actually, we had many many meetings over the course of the year and he was still drawing new things on the day I had to send it to the printers. That's one of the reasons it had to be on vinyl, cos of all the detail in the illustration – as soon as I got my copy I put it up on the wall next to a few of his other pieces. When I look at it I think of him, even though it's a picture of me – he made me look beautiful.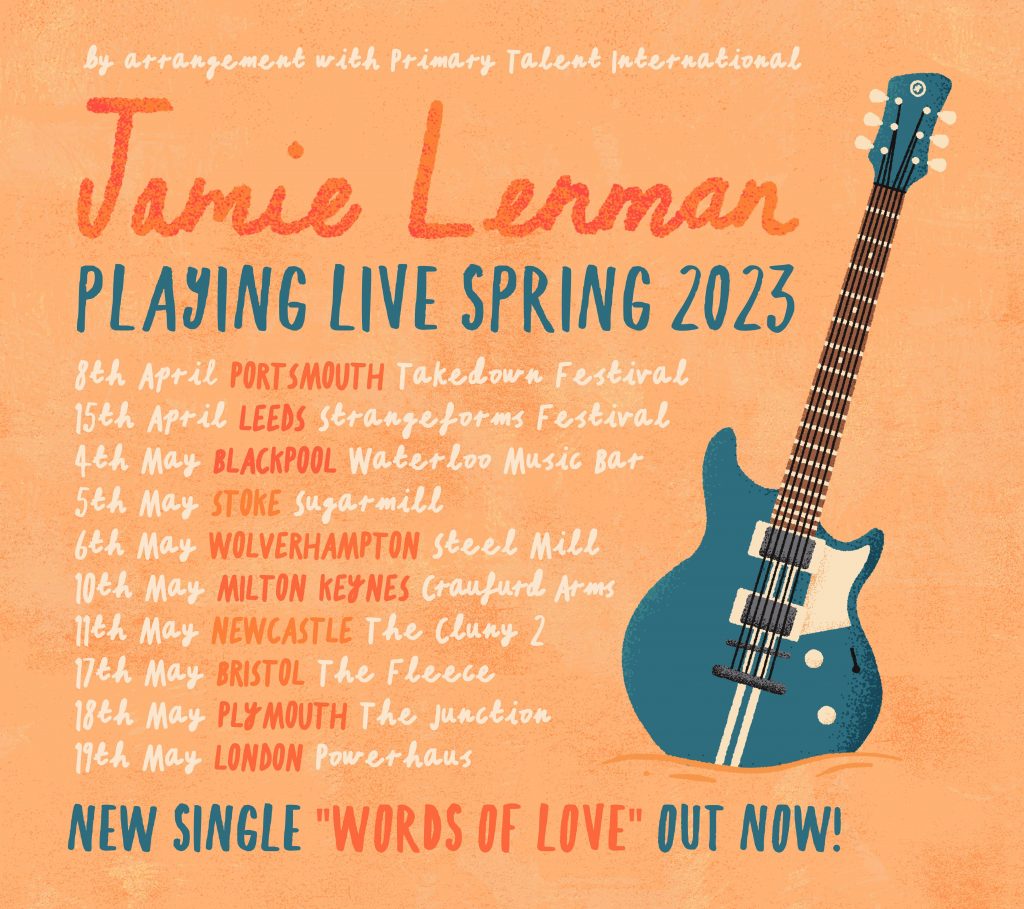 Moving onto you as a music fan, what's your favourite record store and why?
My favourite record store was always The Rock Box in Camberley, where I lived as a teenager. By that time I had a job paying three pounds an hour for four hours a week, which sounds pitiful, but I worked out that it was enough to buy a new CD every seven days, which was all I wanted. So I stopped buying vinyl because nobody was really making them, but I was always hanging out in that shop snooping for new bits and bobs. Very often if I bought an album and didn't particularly like it they would take it back, which is amazing really, but they understood I didn't have money to throw around so every purchase was essential. One of the fellers who worked there even used to make me tapes of new albums that hadn't come over to the UK yet – this was the guy who was supposed to be selling me stuff! But he really cared about music, the same as I did, and we're still friends. They also had a great second-hand aisle where you could buy used CDs for a few quid, and I used to raid that on the reg. My proudest moment was when I found all three of my band's old albums in that aisle – just a fiver each, what a bargain! The Rock Box has moved away from its original location now and of course, all the staff I knew have moved, on so I tend not to visit very much – but it's great to know it's still there.
Purchase The Atheist on vinyl here:
https://bsmrocks.com/collections/home-page/products/jamie-lenman-the-atheist-lp-cd?variant=41271200678020
Listen here:
Get tickets for Jamie's UK tour here: https://www.jamielenman.com/