Alison Whiteacre has had an amazing music career as a recording artist, producer, composer for film, TV, and commercials, and the publisher of her own 4500-plus track music catalog. She's also a parent, a daughter, and a transition and leadership coach. Through her own transformative quest, Alison has cultivated a profound ability to guide others toward their own authentic selves.
In this interview we dive into Alison's journey and how she discovered her true self so she could help others do the same.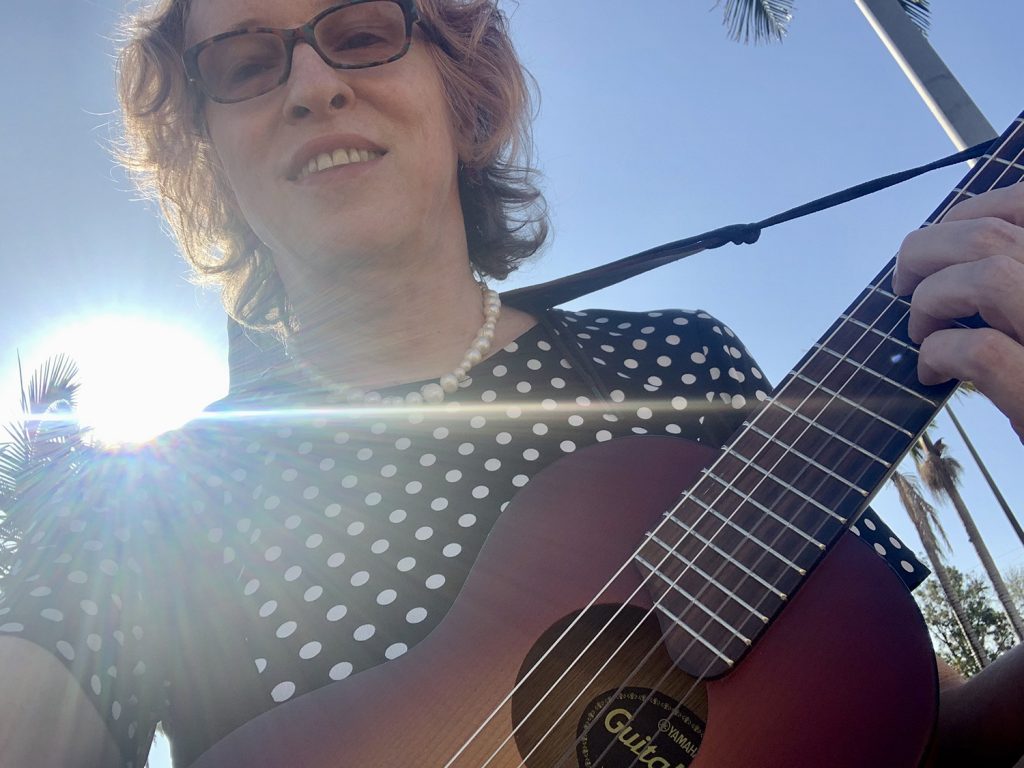 Let's start with your music. Talk us through your beginnings as a musician, what first inspired you to pick up a guitar?
I got my start in Saint Simon's choir when I was six years old. At ten, I received a choral scholarship to Saint Michael's College Choir School in Worcester, England. After my voice changed at 14, I took a few years off to explore sex, drugs, and rock 'n' roll. When I was 17, I learned "Dear Prudence" by The Beatles & I was off and running with a pawn shop six-string and a Radio Shack cassette recorder. I learned songs and open-tuned instrumentals by ear and improved my playing by writing music that was just beyond my abilities. Eight months after starting to play, I was accepted into the music program at York University on the strength of my ear and my first nine guitar compositions. Since I was playing and composing in so many open tunings, I bought a bass to get experience on the bandstand and to fill out my 4-track recording creations.
In the 80s, I moved to Boulder, CO, to study music, dance, poetry, and Buddhist psychology at Naropa University. This was a wonderful incubation time as a musician. I played with and recorded rock, country, and jazz groups while teaching guitar and opening concerts for many national touring acts as a solo artist. Later, I moved to Los Angeles and continued writing, recording, teaching, and producing, eventually getting into the jingle writing world and scoring my first films.
In the 2000s, I stopped performing and immersed myself in the solitary world of composing for TV. This was a very productive time as I was quickly amassing a music licensing catalog of my original songs and score. As is often the case with film, TV, and commercial composers, I drifted into burnout and, in 2015, did what a composer never does… I turned down scoring a series for a major network & promised myself I wouldn't get back into the studio again until I loved it as I did in my late teens.
Could you tell us about a defining "breakthrough" moment in your journey?
Apart from learning "Dear Prudence" at 17, turning down that series in 2015 and crawling, squinty-eyed, out of the studio to see what was happening in the world around me was a defining breakthrough moment. I discovered life and transition coaching and learned how to be helpful to others without the aid of my guitar. Getting certified as a coach included lots of peer coaching, both giving and receiving. During this time, I discovered that my frustration with the limited confines of gender expression was because I am transgender. Having discovered a major missing puzzle piece of my life and starting my transition, I was off and running, building my coaching practice and experiencing a level of authentic living I had never imagined.
What have been some of your most enriching musical moments and why?
I think it was when the first time Ken (Yamaha Guitar Group Artist Relations Manager) saw me play. It was back in '89, right after I moved to LA. I entered the Southern California Guitarist of the Year contest and Ken was in the audience and saw me play. I had my acoustic guitar, and all the other guys were playing with electric guitars through the Marshall stacks. They were doing all the tapping and I got up there with my acoustic and I plugged it into the Marshall stack and I started beating on it. That got the attention of a lot of the shredders who were judges including Ken. That was super memorable. It kind of put me on the map because I had just moved to town seven or eight months earlier. I was crowned the Southern California Guitarist of the Year, so that was kind of fun.
How did you develop your unique playing style?
I started playing in open tunings right away because my ear was already advanced from all those years in the choir, I could listen to something and figure out how to play it on the guitar. The style incorporates open tunings a lot. My ear has really dictated my playing style. I also played bass in funk fusion bands. My style of playing in the early days was not such that I could get a gig playing for anybody because I was only playing my own music and it was in open tunings and I was still figuring out how to play live. I bought a bass from one of my mentors and then I started playing in bands. The very first was a polka band, that was trippy, strange time signatures all the time.
At that time I lived close to a place called The Oriental Palace in Toronto and they had a house band and would bring in singers from Taiwan to sing pop songs in Mandarin. I would put my bass in my backpack at 7:25 pm, ride my bike down the street and be on stage at 7:30 pm. That's when I got tight starting to play in a band setting.
I discovered that my frustration with the limited confines of gender expression was because I am transgender. Having discovered a major missing puzzle piece of my life and starting my transition, I was off and running, building my coaching practice, and experiencing a level of authentic living I had never imagined.
Did you teach yourself those techniques, like slap technique, or did you have someone that you worked with?
At Naropa, the Buddhist liberal arts college, the music teacher was super cool, he was just so great getting the music into people's bodies. I'm very much a more physical, learn how to do stuff person than an intellectual kind of person. I joined a band called Current Affair and we would do Funk, Acid Jazz, Fusion and Blues. I had to learn how to play like Marcus Miller so I just listened to the tapes over and over again, trying to make it sound like what he was doing. That's how I learned the slapping stuff and then I immediately applied it to guitar.
As you were transitioning what was the impact on your music writing and performing? Did music at all help guide you through embracing your authentic gender identity?
Good question! I think, actually, quitting composing was essential to giving me the space, time, and freedom to nurture that delicate, queer/trans inner voice. So much of my ego and reason for existing was wrapped up in my identity as a guitarist, singer, and composer. Letting that go for several years made room for strengthening weaker parts of my life that my musicianship compensated for. I learned how to listen deeply, ask empowering questions, and, above all, learn how to help others without having my own agenda. And in doing so, I learned how to love myself as well. Assisting others to learn how to love their journey is its own reward.
You have to let go in order to move forward, but there's a leap of faith, right. I didn't know, but I knew that there would be something there. I just didn't know what it was. I knew that it was more important for me to find out what it was than it was to stay the same.
You talk about how your journey of making music started to lose its satisfaction over the years, how did you come to acknowledge the absence of joy? And what steps did you take to rediscover that joy and reignite your passion for music?
Over the years, holed up in my studio composing sound by the pound, I felt closeted about my gender identity, and that compromised my core value of authenticity. In a generally homophobic/transphobic world, yes! Even in the music industry, it felt unsafe to be fully out. Bottling myself up brought unhealthy habits with booze and drugs, and it took totally disengaging from my career to shamelessly come out to the world.
After a six-year sabbatical from music, I had an epiphany that I had a lot of unfinished business with music. I love coaching, and I have many professional coach friends who are just killing it, not only as great coaches, but they also love the marketing and social media aspects of having a thriving practice. The marketing part of coaching was always tough for me. Helping people exceed their own expectations is so fulfilling, but selling them on hiring me to do that was not my bag. One day when I was procrastinating on a marketing piece, I asked myself, "What do I REALLY want to do right now?" The answer was right there, just waiting for the question to be asked. The next day I woke up and started sorting through 60-plus guitalele sketches I had recorded in the spring of 2013. After so much time off from playing, it was nice to have a friendly instrument like the guitalele to help shake off all the rust. (laughs)
Would love to hear more about your guitalele.
It's a Yamaha guitar, the cheapest I think that Yamaha makes. It's the scale length of a ukulele and it's got six strings on it.
I've said in the past that would be my desert island instrument because you can toss it around it's not going to break, it's easy to play. When Yamaha gave me my first one it was at the British Music Fair. We were in a pub afterwards and I just put it in an open tuning and handed it out and everybody was drinking and playing. It's not intimidating at all, people who didn't even play an instrument started playing it and everybody was having a great time. I like it because it's sweet, unassuming, and fun.
You talk about being flawed on your website, how all of us have some flaws. This idea of being perfect has existed for a long time, whether in books, marketing ads, etc. Would you share with us a tip on how we can recognize flaws that are helpful and flaws that need changing?
We all have an inner critic that holds us back and loves to keep us safe and small. There's an old truism, "If we treated others the way we treat ourselves, they'd throw us in jail." When our flaws become unhealthy habits, it's good to address the inner critic directly. All inner critic messages have at their core, "I'm not good enough." In coaching "bad" habits, we examine this negative inner voice, give it a name, see it in action, and then learn how to tell it to take a hike when it pops up. With practice, we can repurpose this voice into our inner cheerleader, but the first step is to get to know it, see it in action, give it a name, and tell it to take a hike!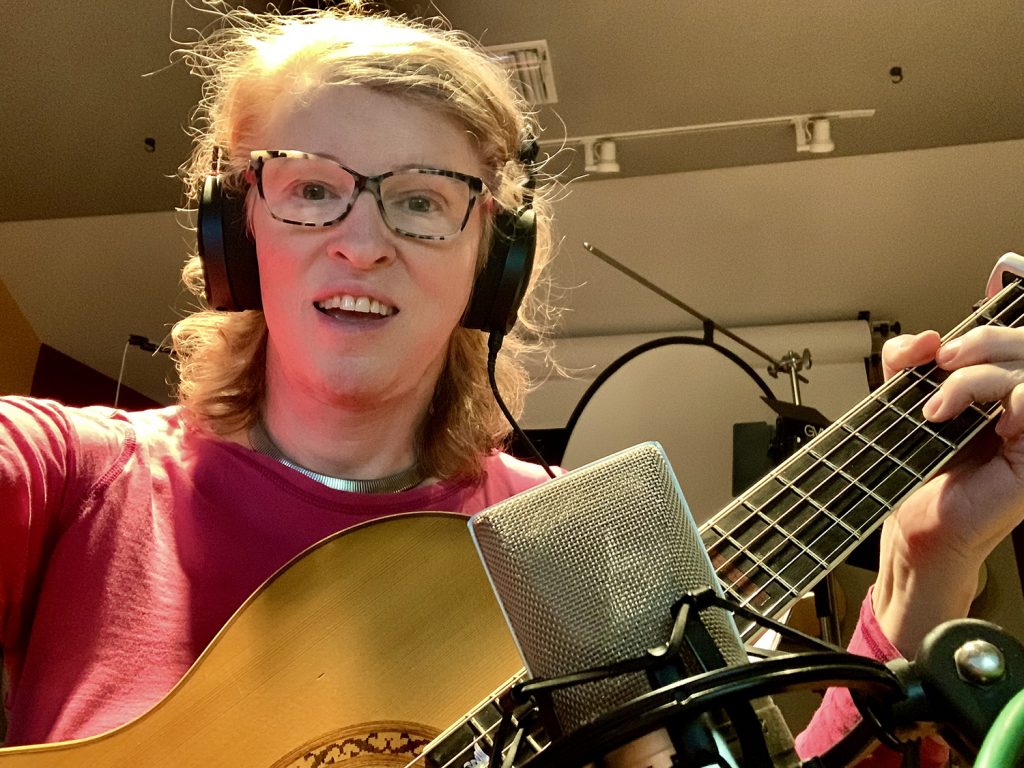 For young adults starting out on their own and dealing with "who am I?" on so many levels, what are some things they can do to be more in tune with their self vs what everything around them is telling them to identify as?
Great question! With all the social media, advertisers, and influencers screaming for your attention, it's easy to get lost in the things that are most important to people who aren't YOU. At every stage of life, it's important to keep in touch with who YOU are and what YOU value. One of the greatest tools for this is helping young adults identify their core values. Core values are the principles that we live by. They are what motivates and drives us. They are what makes us tick. When you Identify and honor your core values throughout your life, your good choices become more obvious. Building your life and career around your core values creates a more purposeful and satisfying adventure.
My core values are Authenticity, Creativity, Enthusiasm, and FUN, so, whenever things aren't going "my way," I can be sure that at least one of my core values is not being honored.
Your core values are your North Star, and when navigating the noise and hubbub of life they help you answer the question, "who am I?"
You recently played a live show for the first time in quite a while, what was this experience like for you?
It was fun and exciting to get back on stage. Just booking the date brought a healthy level of urgency to my practice. The old adage always rings true, "If you want your band to practice, book a gig!!!"
We would love to support a charity that is near and dear to your heart. Could you please share with us the name of the charity and explain its significance to you?
The Trevor Project is an American nonprofit organization founded in 1998. Focused on suicide prevention efforts among lesbian, gay, bisexual, transgender, queer, and questioning youth, they offer a toll-free telephone number where confidential assistance is provided by trained counselors. Call 1-866-488-7386 or Text 'Start' to 678-678
Learn more about Alison here:
https://alisonwhiteacre.com/about/
https://www.instagram.com/alisonwhiteacre/