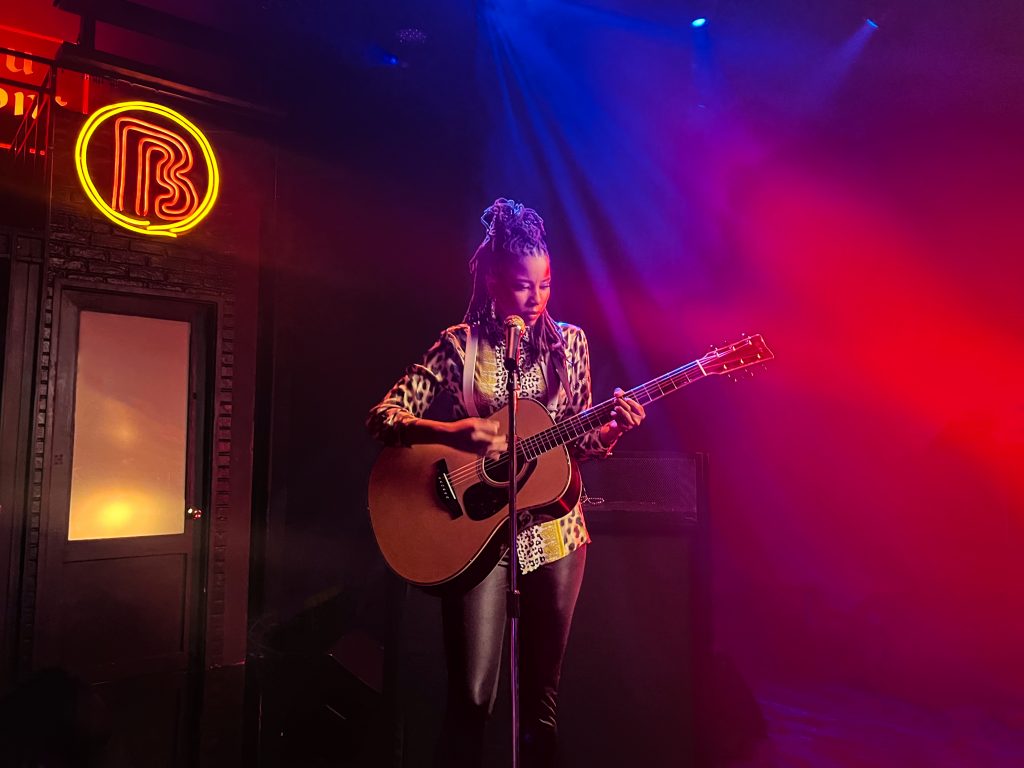 In celebration of International Women's Day and Women's History Month 2023, Yamaha is shining a light on female musicians and educators all over the world, learning about their experiences and any challenges they have faced.
Here at Yamaha Guitars, we connected with JUNO the Artist to discuss her beginnings as a musician, her creative process, and her experiences teaching guitar.
JUNO has worked with Fifth Harmony, Camila Cabello, Bruno Mars, Erykah Badu, and Lizzo, as well as writing and producing her own music. She is the founder and CEO of JUNO's Guitar Bootcamp, teaching guitar to over 400 students in 12 different countries, and runs the community "Soulful Sundays", teaching classic R&B Guitar in hopes to keep the genre alive.
Tell us about your first musical memories.
JUNO: My first musical memories were in church as a kid. We used to put on these huge musicals, and I sang in the kid's choir. I never saw any women playing instruments, so it never crossed my mind to play an instrument. Now looking back, it fascinates me how important visibility is. The first time I ever saw a woman playing an electric guitar was watching Bibi McGill on YouTube shred a guitar solo to "If I Were a Boy" next to Beyoncé. I think my whole future flashed before my eyes. Suddenly, I saw something I had never seen before, that felt like something I wanted to be. Bibi was confident, and fierce, and did NOT seem to need anyone else's approval or validation. The icing on the cake was that she looked like me.
How do you create music?
JUNO: Creating music is my healing process and way of making sense of my experiences in the world. It's a very raw and personal experience for me. I have to live through something before I can write about it, which is why I have a really hard time sharing and marketing my music. It's so personal that I often feel as if I'm sharing my diary with the world. So, whenever I release a new song, I fight myself for six months debating if I even want to share it! It's a mental battle because I know the power of sending honest vibrations out into the world. I genuinely want to be responsible with that gift and uplift the world.
How do you feel when you are playing music?
JUNO: Completely FREE. It's the only time I feel free other than when I'm sitting at the ocean. It feels like I have something deep down inside of me fighting to come out. When I am playing music, I feel like I am cooperating with that force instead of fighting it. It makes me feel like I am living my truth.

What are the strengths you have found in playing music?
JUNO: Playing music has taught me time and time again to trust the process! When I was starting out, I saw cats like Erick Walls shredding guitar, and I thought it was impossible for me to ever play that way. Then I'd rewind a 3 second clip and listen to it 45 times before even touching my guitar. Once I could hum the lick back without needing to hear the original, I knew it was "in me." THEN I would pick up my guitar. I am not a very patient person, so playing music constantly reminds me to slow down and be thorough with each step rather than just wanting to get through it.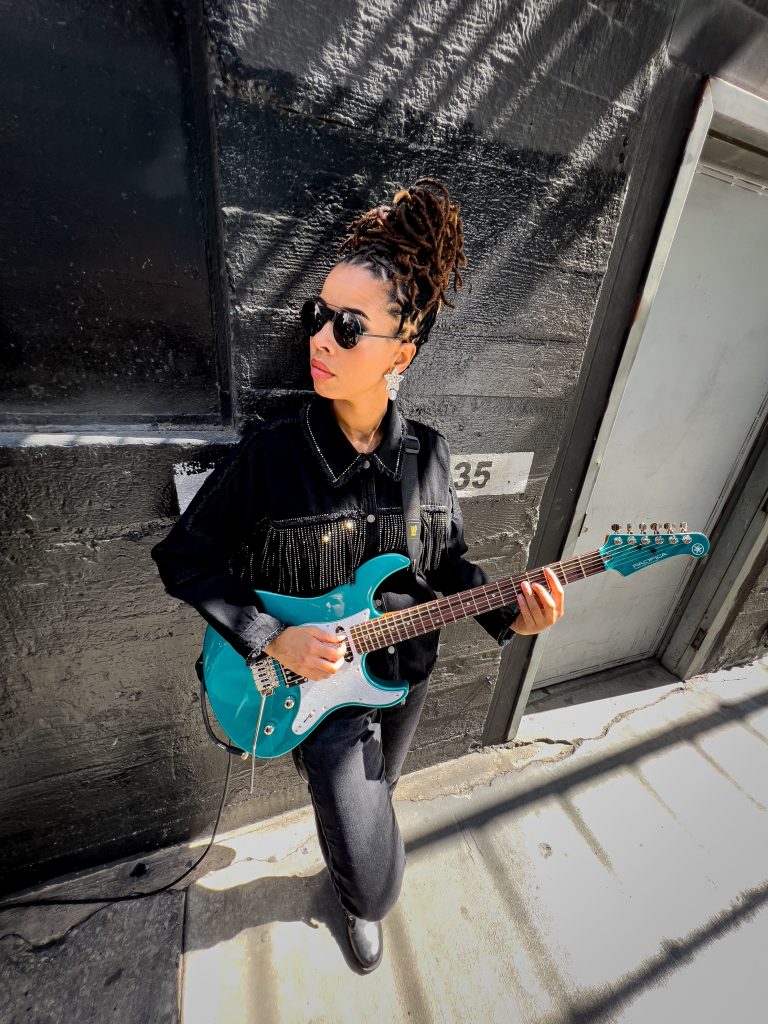 How did JUNO's Guitar Bootcamp come to life?
JUNO: JUNO's Guitar Bootcamp was born on the back of a tour bus by accident. While on my very first tour as a guitarist for Fifth Harmony, I was practicing guitar nonstop on our off days and in between gigs. I began to teach the Artists around me how to play guitar and we would jam any chance we got. When the tour ended, I continued these jams on Skype and continued to teach Artists how to play their own songs on guitar to help prepare for their shows. Suddenly, Covid hit and the world shut down. Everyone was stuck inside feeling isolated, and I had the idea of trying a group class. By this time, the app Zoom was born, and a LOT more people could jam at once. Since its formation, I have served over 400 students worldwide.

What's most important to you in JUNO's Guitar Bootcamp?
JUNO: That each student feels empowered to express themselves.  It's awesome to repeat licks or songs we all know from the greats, but there is something really special about being able to tap into what you're feeling and let that flow through your hands. It's important to me that my students find their voice and are comfortable being themselves. I always tell them "Everything you have ever heard from Beethoven to Tupac was just someone else's idea captured, they are no different than you!" I want them to feel just as confident to express themselves as the people who came before them.  Our voices are powerful, and each generation has a new opportunity to share their stories.  It's most important that my students see themselves as a part of the evolution of art. No matter how big or small. 
How would you describe your teaching style?
JUNO: Simple and straight to the point. I have a gift of meeting people right where they are and translating complex information into simple digestible segments. I see music as a language and there are only 12 letters in the musical alphabet. Imagine all the things you can say with those 12 notes?
How do you feel when you're teaching guitar or making music with your students?
JUNO: I feel really proud to see so many women and people of color playing guitar all over the world. When I was a kid, I was fascinated by Dr. King and his impact on the world. When I am teaching, I feel like I am carrying on the legacy of so many great men and women who opened doors for me. I feel like a tiny piece of sand on a great big beach, but I know that my piece of sand is just as important as every piece that came before me. I see new job opportunities, new industries being born and new ways of connecting and communicating with each other! Teaching makes me feel like I am leaving something behind on this earth that can never be erased.
Have you ever faced any gender equality issues in your experience teaching? If yes, how did you overcome them?
JUNO: In the beginning, there were a few men who tried me! They would try and flirt with me or say little slick comments to see how I would respond, but I shut that down. People can only treat you the way you allow them to. I am never afraid to speak up or remove myself from a situation that doesn't feel right for me. Turning down checks to show people that I'm not for sale was a huge game changer for me. My integrity is more important to me than a check. When people realize that, they fall in line or get left behind.
What message would you give to the next generation?
JUNO: Dig deeper. Everything that we leave on this earth will speak for us long after we're gone. Instagram, TikTok, Snapchat…they're just apps that can be deleted. What can never be erased is the impact we have on the world.
Learn more about JUNO:
Discover more about Women Who Make Music in the world here:

https://www.yamaha.com/en/csr/diversity_equity_inclusion/stories/brand_iwd2023/


#WomenWhoMakeWaves #YamahaMusic #MakeWaves