Steady Holiday is the solo project of Los Angeles-based singer/songwriter, multi-instrumentalist, and actress Dre Babinski. She discovered Revstar guitars when performing at a Yamaha showcase at SXSW in 2019, and the series has been her mainstay ever since.
"I've played around on several different Yamaha models, but quickly landed on the Revstar," she recalls. "I love the elegance of this guitar. It's clean and essential. It doesn't have a single detail more than what I require, which I love." Her connection to the series deepened when, on a trip to Japan, she visited the Yamaha guitar factory in Hamamatsu that builds Revstar Professional models.
In 2021, Dre collaborated with Yamaha Guitar Development in California on a one-of-a-kind custom Revstar. The guitar features a chambered body and custom neck profile for a bespoke fit. "It's beautifully balanced and lightweight, which helps me get around it effortlessly," she describes. "Most importantly, the fretboard is narrow and a slightly shorter scale to accommodate my dinky hands."
The vibrant colors are a striking departure from the hand-cut steel wool finishes and racing-inspired aesthetics of the original Revstar RSP20CR models. The inspiration was similarly unique. "I have a strong nostalgic love for the cartoon Rocko's Modern Life. I decided not to search for images before choosing colors—I just wanted to recreate the feeling of the show from memory." To evoke the palette of Nickelodeon's cult classic, Dre selected a subtle cantaloupe-orange finish accented with a blue scratchplate, truss rod cover, and control cover. Gold hardware and fretwire complete the guitar's distinctive style.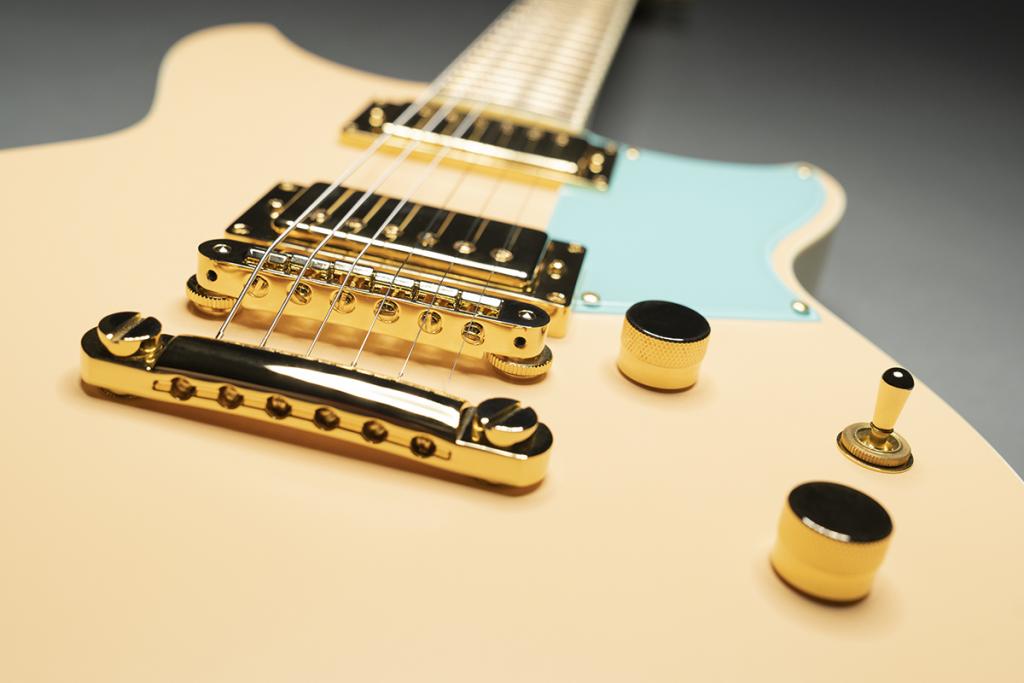 Dre has played Revstars at Coachella and on tour across the US and Japan, and her custom model will be featured heavily on the upcoming Steady Holiday album.When she isn't playing electric, Dre reaches for a Yamaha CSF-TA. The compact TransAcoustic features reverb and chorus that come through the guitar's soundboard without requiring an amplifier or external effects. The guitar is featured in Steady Holiday's performance from NPR's Tiny Desk Meets SXSW series:
"This is my go-to when I'm writing at home," she concludes. "It follows me around from room to room. It plays like an old parlor but has all the modern functionality necessary to record or play live. Plus, the built-in effects are my best party trick."
Fans can see Yamaha guitars on stage with Steady Holiday at the Bob Baker Marionette Theater in Los Angeles on November 12.