Part I: From Concept to Desktop
THR® product development began with what seemed like a specifically Japanese problem. With generally smaller living spaces and significantly higher population density than in the West, it could be difficult for Japanese guitarists to practice without disturbing their neighbors. "We always had a hard time playing guitar with great sound at home," explains Takashi Yamashiro, Manager of the Guitar Development Group at the Yamaha Corporation of Japan. "We originally thought this was a domestic issue, but we learned that guitarists around the world faced the same challenge, so that's what we set out to solve."
The THR name comes from the concept of the "third amp". We imagined the "first amp" as a tube stack designed for large stages, and the "second amp" as a combo for smaller venues or rehearsals. These amplifiers are ideal for these applications but might be less suited to playing at home. Most notably, tube amps need to be turned up to get the iconic sound of power tube saturation, resulting in volume that isn't always practical in the living room.
Practice amps scaled down the size, weight, and volume but were often simply smaller versions of these larger amplifiers. This inspired the "third amp" idea: we play differently at home than we do on stage or in rehearsal. We envisioned a practice amp that could provide everything a guitarist needed when playing at home – the sound and feel of a professional tube amp at living room volumes, a built-in tuner, onboard effects, connectivity for playing along with your music library in high fidelity, and an integrated USB audio interface for recording – all in a compact enclosure that fit on your desk. "We had all of the key technologies in-house," continues Yamashiro. "We could combine expertise from multiple divisions to offer a unique solution for players at home."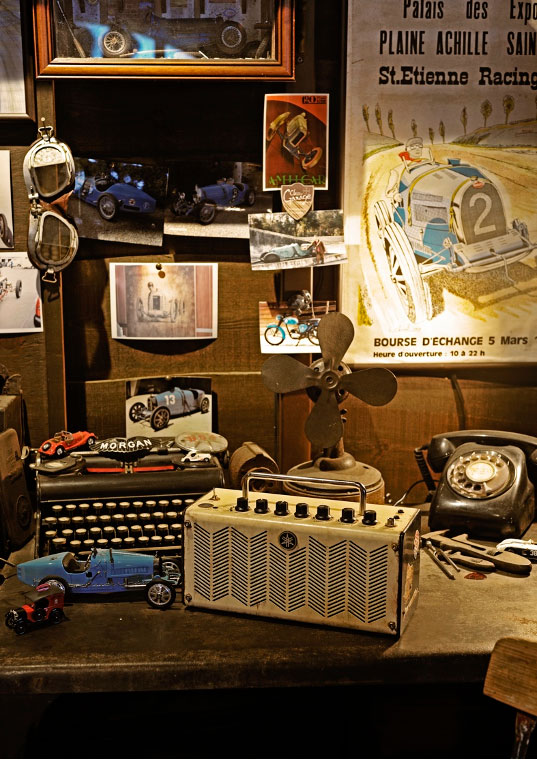 The THR series first launched in 2011 with the THR5 and THR10: 10-watt stereo amplifiers with a retro design and classic tones. Glowing lights behind the distinctive grille prompted questions about whether there were real tubes inside. Instead, the amps used Yamaha's Virtual Circuitry Modeling (VCM), which models each component in a circuit and the musical interactions between them. VCM emerged from an R&D team known as "K's Lab" working under Toshifumi "Dr. K" Kunimoto, who led Yamaha's development of physical modeling technology. The first VCM products were effects for our digital mixing consoles, but the technology has also been used in our synthesizers and VST plugins such as the RND Portico series from Steinberg – software recreations of modern hardware classics that were exclusively approved by Rupert Neve himself. In THR, VCM captures the characteristics of preamp and power amp saturation and the nuances of various tone stacks, realistically simulating the sound and feel of professional tube amplifiers.
The original THR tones were unmistakably inspired by iconic clean and crunch sounds from both sides of the Atlantic, but VCM enabled the development team more flexibility than simply recreating classic designs. "Each model is based on a real amp, but they're all modified," explains Julian Ward, Yamaha's Global Guitar Strategy Manager. "It's not a copy of that amp – it's our version." The results can be subtle, fine-tuning resistor and capacitor values, or transformative – changing tube configurations or adding features such as multi-band EQ and master volume controls to circuits that may have originally offered neither. "It's a bit like boutique amp manufacturers," Ward concludes. "They were modifying circuits with physical components and a soldering iron. We're effectively doing the same thing with software."
Guitarists commonly play along to their favourite songs, but a conventional guitar amplifier isn't ideal for music playback. They are typically mono, the speakers have an upper frequency range of approximately 5kHz – far short of CD-quality audio – and most don't offer auxiliary inputs.
Playing guitar through an amp along to music on a stereo is an easy workaround, but we wanted a more immersive experience so players could hear their guitar mixed in with the music, or easily practice in headphones. We turned to Yamaha's award-winning Home Audio division to collaborate on the speakers and cabinet design, working extensively on the mechanical engineering so both the virtual amp models and music playback would sound full and natural.
USB audio capabilities drew on Yamaha's experience with digital mixers and interfaces, and digital audio workstation software from Steinberg (also part of the Yamaha family) was bundled with the amps to provide a comprehensive recording solution. Combining expertise from across Yamaha, and with amp models meticulously voiced by the sound design team, THR was released into the world to a warm reception. Validating the "third amp" concept, MusicRadar noted "these amps will make you play the guitar more".
Part II: New Models and a New Generation
In 2012, the series expanded with three new models: THR10C and THR10X specialized in modeling low-watt boutique combos and high-gain heads, and THR5A offered mic modeling for acoustic-electric guitarists who wanted to practice with a more fully produced sound. The v2 firmware update for THR5 and THR10 replaced the original virtual speaker cabinet models, which were based on a single microphone per cabinet, with multi-mic simulations that were introduced with the THR10C/X for more sophisticated tones.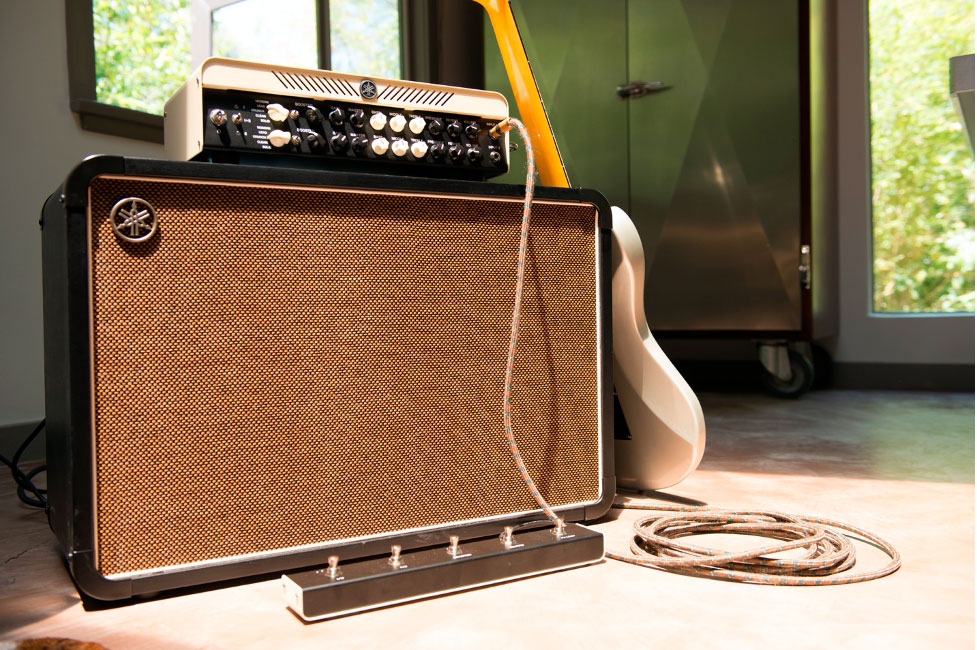 Although the series was specifically designed for playing at home, one of the most frequent customer requests was for the ability to use THR sounds live. In 2015, we responded with new THR heads and speaker cabinets, bringing VCM amp modeling to the stage. The THR100H and THR100HD were 100-watt Class-D amplifiers that could be lifted with a finger. They added virtual overdrive pedals, selectable power tube models, and selectable Class A or Class AB modeling – allowing players to customize the character and response of the amplifier with just a few simple controls. Perhaps most compellingly, both the THR100HD head and THR212C cabinet could run in mono or stereo. Players could set up two separate amp tones, each with independent onboard effects and effect loops, into two distinctly voiced speakers – offering layered multi-amp tones from a single head and cabinet. Commenting on the sound, flexibility, and convenience in their review, Guitar World put it succinctly: "Yamaha THR100HD provides everything guitarists love about tube amps and none of the things they hate."
The desktop lineup was refreshed in 2019. The THR-II series featured more power and more sounds than the originals, with a mix of updated and completely new virtual amp models. Bluetooth® support, a mobile editor app, and available line outputs addressed the top feature requests from THR owners. THR-II Wireless models also incorporated guitar wireless technology from Line 6, which joined the Yamaha family in 2014, offering a completely cable-free playing experience.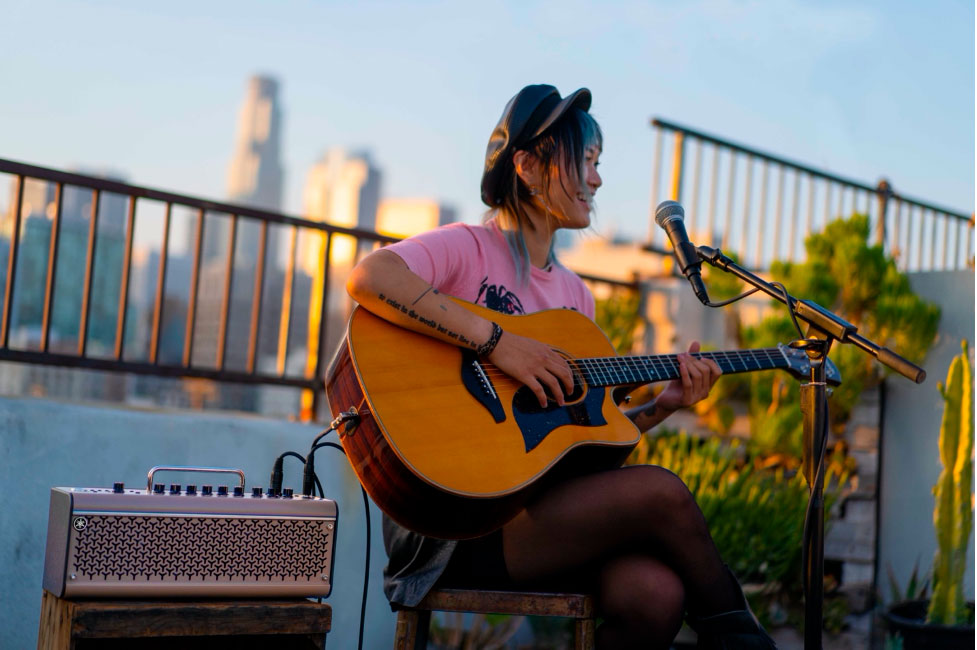 The THR30IIA Wireless followed in 2020. Like THR5A, it was designed for acoustic-electric instruments, and added a microphone input for singer-songwriters. The overview video features artist Yvette Young performing an acoustic rendition of her song "Parachute", and all of her parts – vocals, A-Series acoustic guitar, and YEV electric violin – were recorded through the THR itself.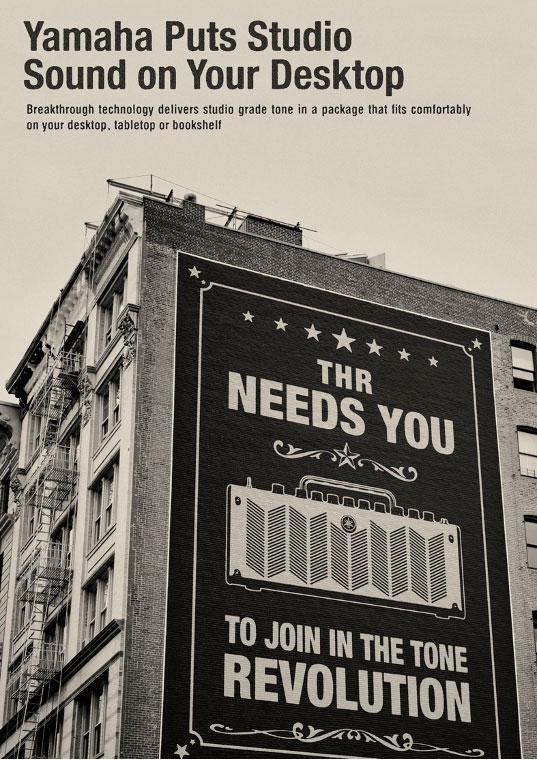 Over the past decade, we've watched compact multi-functional amplifiers evolve from a curiosity to an established and essential category. With the original THR, we saw an opportunity to respond to the needs of guitarists when playing at home, and to meet those needs with a unique breadth of expertise. THR has now earned prestigious mentions in "Gear of the Decade" pieces from publications including Guitar World and Guitar.com. We are proud to be "the original desktop amp" as we look forward to the next ten years of evolution, innovation, and commitment to inspiring tones designed for what, where, and how guitarists play when they play at home.