For Record Store Day, our Social Media team asked around the Yamaha Guitar Group for stories about our love of music. As you would expect, our office is full of passionate music lovers and active musicians, and my best music story might be about the time I was nominated for a Grammy award.
After my high school graduation, my plans were to spend more time with my girlfriend, playing in my rock band, and surfing. My parents' plans were for me to go to university – and they won. I started at Pierce College that fall and later transferred to Cal State University Northridge to complete my degree. I had some moderate success playing in various bands around LA, so I picked Music as my major – but formal music programs didn't recognize pop and rock, so my previous experience did me little good.
According to my professors, the only "legitimate" music was classical. However, the program also accepted some study of jazz. To my surprise, I loved the jazz vocal sound and have since been a life-long fan. The harmonies, intricate timing, and musical complexity of it boggled my mind. I successfully auditioned for the Pierce College Jazz Choir – an elite, 16-voice vocal ensemble – and was selected as a featured soloist. I threw myself deep into the material, sharpening my jazz vocal chops while also studying "legitimate" music.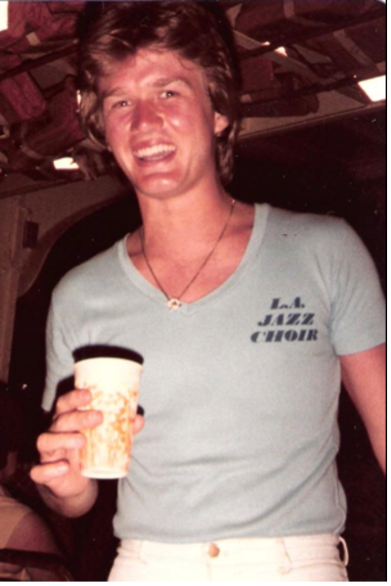 We performed all over the greater Los Angeles area. Our director, Dr. Gerald Eskelin, is a virtuoso choral director and honed the group into a powerhouse. The group ultimately turned professional, changing the name to the "L.A. Jazz Choir" and setting out to conquer the world of vocal jazz. We toured Europe and were invited to sing at the Hollywood Bowl, the Dorothy Chandler Pavilion, the Montreaux and North Sea Jazz Festivals, and other prestigious concerts and conventions.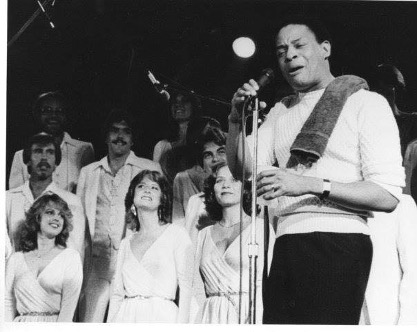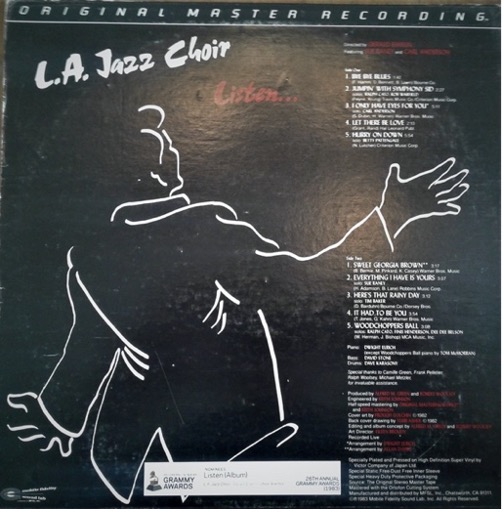 We caught the attention of legendary jazz vocalists and were soon performing and recording with such greats as Al Jarreau, Rosemary Clooney, Carl Anderson, and Mel Tormé. Along the way, our album "Listen" for was nominated in the "Best Jazz Vocal Group or Duo" category at the 26th Annual Grammy Awards in 1984.
I wish I knew the secret alchemy required to achieve a Grammy nomination. The story is simply that our producer submitted the album for consideration by voting members of the Recording Academy – the organization that produces the Grammy Awards. These voting members had been following our trajectory and were already familiar with our sound. The entertainment media was noticing, too:
"…an ensemble that is unique both in the textural richness of the arrangements and in the pinpoint accuracy with which they are interpreted…achieved a flawless blend and radiated enthusiasm. The L.A. Jazz Choir is like a shimmering, shifting sea of sound." — Leonard Feather, Los Angeles Times
"…like the Manhattan Transfer at its jazziest…" — Elizabeth Hertigan, Los Angeles Daily News
"…a flawless fusion of jazz and swing, with more than just a touch of soulful gospel and funk…exciting, toe-tapping, finger-snapping format that is guaranteed to please…" — A. James Liska, Downbeat
An alignment of unique sound, timing, savvy management, and luck led to the nomination. I will never forget the feeling of our work being recognized alongside legends such as the Manhattan Transfer. They ultimately won the category that year, which is why this post isn't called "How I Won a Grammy Award".
It's a funny coincidence that name of this album is "Listen". If I hadn't listened to my parents when they encouraged me to go to university, or to the teachers who introduced me to vocal jazz, I wouldn't have had this amazing musical experience.
Even though we didn't win, the expression is really true: "It's an honor just to be nominated."
Tim Baker is the Product Marketing Manager for Acoustic Guitars with the Yamaha Guitar Group in Calabasas, California.