Nathan East has been a Yamaha artist for more than three decades and remains one of the world's most sought-after musicians. As a bassist, producer & songwriter, Nathan has collaborated with numerous top artists from Barry White and Kenny Loggins to Eric Clapton and Anita Baker. His Grammy Award winning steady groove and bass lines have provided the backdrop for a variety of mainstream Pop/Rock/R&B artists such as Stevie Wonder, Michael Jackson, Madonna, Elton John, Michael Buble, B.B. King, George Harrison, Whitney Houston, Barbara Streisand, Justin Timberlake, Daft Punk, Lionel Richie, Andrea Bocelli and TOTO to name a few. Nathan has also earned a reputation as one of the top Contemporary Jazz bassists for his collaborations with Quincy Jones, Herbie Hancock, Al Jarreau, Natalie Cole, George Benson, David Benoit and his own supergroup Fourplay co-founded with Bob James, Harvey Mason & Lee Ritenour in 1991.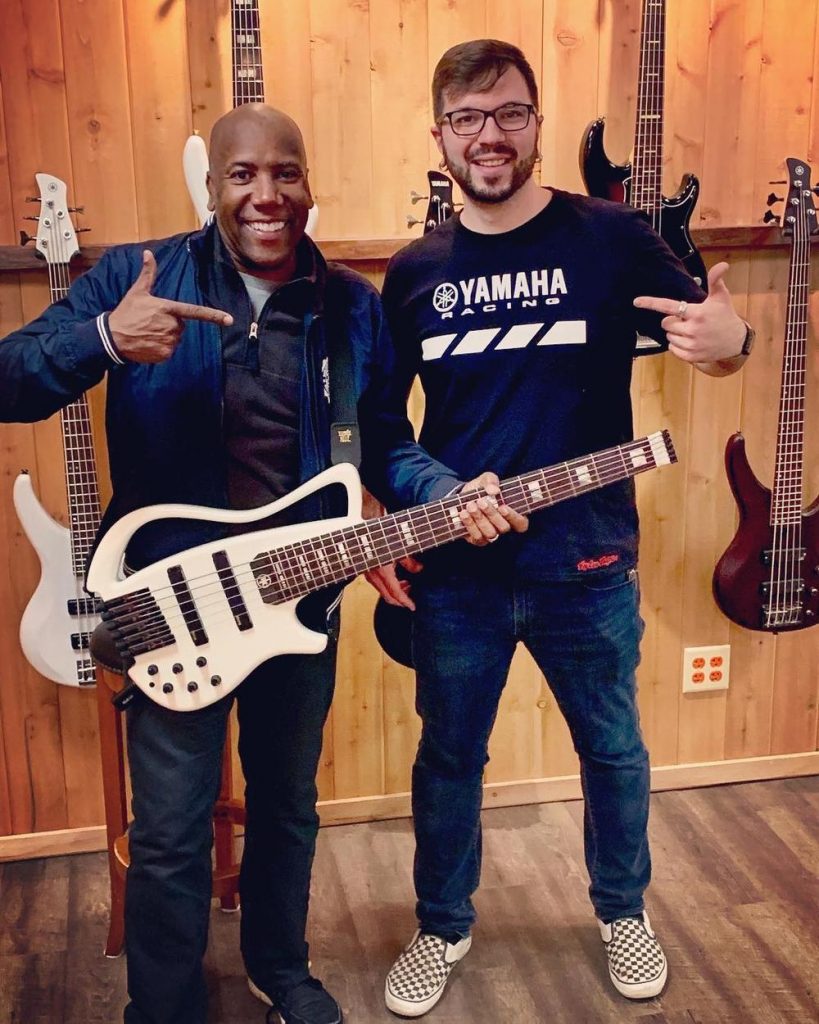 Nathan has a signature sound," explained Senior Guitar Designer and Luthier Pat Campolattano, "so the goal was to give him a signature shape."
Out of the Yamaha Artist Services in LA, our Senior Guitar Designer and Luthier Pat Campolattano recently built a special custom model for the bass legend.
The story of Nathan East's newest custom bass started with a call from John Patitucci…
John needed a substitute for a few dates with the Chick Corea Band, and Nathan was the first choice. A tight schedule meant that he would be practicing parts on the flight to the shows, so Nathan reached out to our Artist Services in Los Angeles, who provided a Silent Guitar for the trip. The compact size and detachable frame were ideal for travel, and the onboard line input and headphone output were perfect practice features.
So, when Pat Campolattano started talking to Nathan about a new custom bass, a travel-friendly design was a priority, and the Silent Guitar was a natural influence. A headless design achieved both a striking silhouette and a size that could fit in a compact gig bag.
Nathan has a signature sound," explained Pat, "so the goal was to give him a signature shape."
The bass is a visual departure from Nathan's signature BBNE2, and the unique construction utilizes some different materials. The bass-side wing is a 13-ply composite of maple and walnut, custom-milled and finished in the shop's 20-ton press. The body is Spanish cedar with a walnut top, and the 5-piece neck is made from layers of wenge and roasted maple, providing sustain and clarity. The backplate – carbon fiber bonded to a sheet of aluminum – is magnetic, so there isn't a screw in sight.
Despite these differences, the electronics are the same as Nathan's production model. "I wanted it to be familiar for him," said Pat. "He's been playing his signature bass for years and knows that sound."
The wiring had to be rearranged to accommodate the new shape, and the Mid-Cut switch was changed from a mini-toggle to a push-button, but the preamp is otherwise identical to the BBNE2, and the pickups are the same models in a 6-string format.
Currently, our LA custom shop works exclusively on artist support and R&D projects, themes which are exemplified with this unique instrument. Now that the bass has left the bench to go out on tour, Pat already has some ideas about iterating on the headless concept:
This bass weighs about 9 pounds. I'd love to get that down to 8 or lower. I'd start by making the wings out of the lightest ash I could find. I want to make a 5-string version, and I think it would look great in a metallic purple frost finish."
This new custom bass, it seems, is already providing inspiration of its own.
To hear Nathan East's custom Bass in person, check out his tour dates at www.nathaneast.com.
Check out Nathan East's signature bass, the BBNE2: https://usa.yamaha.com/products/musical_instruments/guitars_basses/el_ba…