Yamaha artists Travis Vance and Nathan Whitney together perform in Pop – Country star Thomas Rhett's band, playing to fans in stadiums worldwide.
We sat down with the guitarist and bassist to talk about what they look for in their gear, musicians who inspire them, and how it feels to play on stage in front of tens of thousands of people.
Comfort and familiarity are huge reasons for my guitar choices. I grew up playing Yamaha guitars. My first "real" electric guitar was a Pacifica 112 that I bought used. I bought that guitar when I was about 14 or 15 and played it all through high-school, college and the first few years working professionally. That neck profile and body shape are ingrained in my soul!"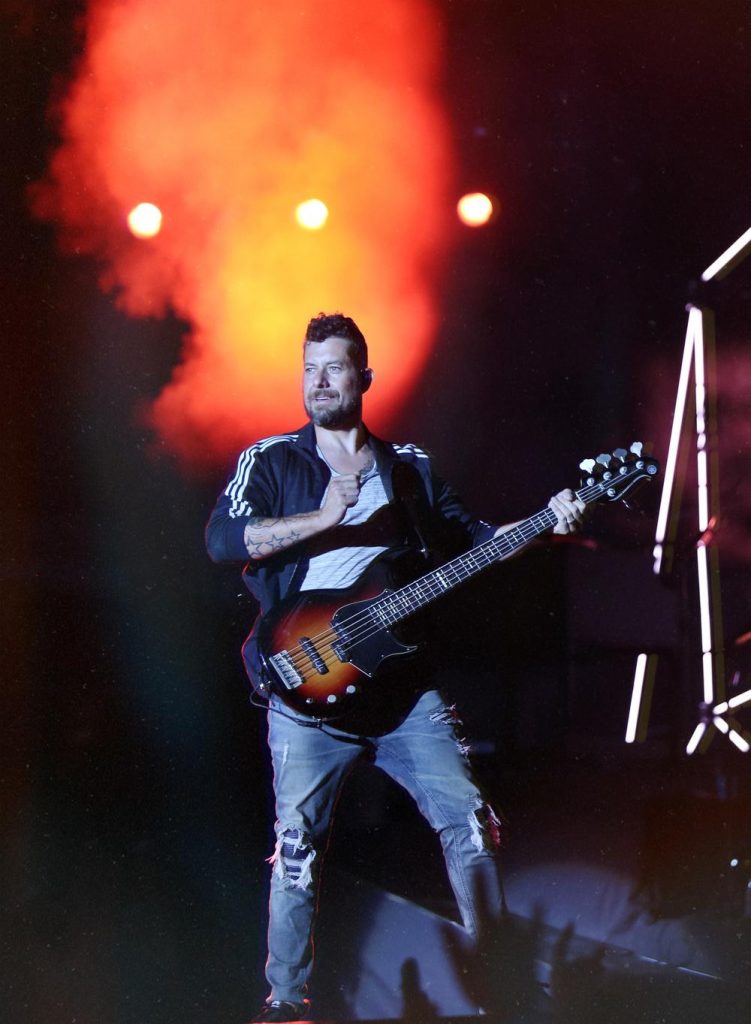 Yamaha Guitars: Hey guys, thanks for taking the time to chat with us! You've been playing huge stadium tours with Thomas Rhett, how has that experience been for you?
Nathan Whitney: It's been an amazing experience. As a teenager, and throughout my working career, playing these types of shows has always been a goal. Every show has been surreal, seeing tens of thousands of people out there in the stands, and it has been an honour to be part of a team that is there to help these people have a good time.
Travis Vance: I'd played a handful of NFL/MLB stadiums as one-offs in conjunction with other tours in the past, but this summer opening for Kenny Chesney with Thomas Rhett was the first time I'd ever been part of a full-on stadium tour. It was pretty surreal; in part because of the production scale, but also the sheer number of people in the audience (and backstage) is pretty jaw-dropping. It's tough to describe something that huge in a nutshell!
YGS: How does it differ to smaller venues for you? Do you have a preference?
NW: Obviously, the actual proximity to the audience in either kind of venue contributes to a different approach to presenting the show. In smaller venues, you can make an actual personal connection with the audience, whether by making eye contact, or smiling, playing parts up close to the audience and making a point of traveling across the stage to engage as many people as possible. Those types of show are what I grew up playing and am really familiar with.
Stadium shows are about that too, but also interpreting it for a camera that is broadcasting you onto the big screen. Your movements don't have to be as "big", since the camera does that work for you. But it also means that a lot of the show isn't about eye contact or proximity, but about facial expressions and body language. It's one thing in a small club to not have a smile on your face for a couple of seconds, but you never know when a camera will be on you when you're in a stadium, so you better be "on" all the time!
I don't prefer one over the other, because they're totally different types of gigs that require me to bring new and interesting ways to think about my playing and the way I help entertain.
TV: From an entertainer's standpoint you have to balance "playing to the back of the room" with playing to the 4K cameras that will make you visible to the people who are literally sitting 70 yards back and 300 ft up. Get friendly with the handheld camera guys if you want some time on the Jumbotron! Musically speaking it's entirely different than playing indoor arenas or even amphitheaters because of the acoustic environment; I likened our stadium audio setup to a sound laboratory that we collectively tried to recreate every week. With clean stages (no amps) and massive speaker arrays (some of which project on a slight delay to account for distances), you have to rely solely on your in-ear monitors and monitor engineer to take care of you or else you're hosed; I've been very lucky to have worked with an incredible monitor guy for several years (Wesley Crowe) and I use the Roxanne model Jerry Harvey in-ears.
My favorite rooms are actually 2000-4000 seat ballroom/theaters. They're large enough to feel like you've got a nice, big audience, but you can also still see lots of individual faces and the energy transfer back to stage is much more palpable. They also usually sound the best.
YGs: Let's talk gear! How did you choose your current rig?
NW: Comfort and familiarity are huge reasons for my guitar choices. I grew up playing Yamaha guitars. My first "real" electric guitar was a Pacifica 112 that I bought used. I bought that guitar when I was about 14 or 15 and played it all through Highschool, College and the first few years working professionally. That neck profile and body shape are ingrained in my soul!
When I had the chance to work with Yamaha, it was like coming home for me. As soon as I received my new Pacifica, I knew it was where I wanted to be. When I got my Revstars, though different from the Pacifica, it was familiar and allowed me to play the way I play after all the years of practicing, gigging and performing with my first Pacifica.
TV: I was introduced to Yamaha basses in high school by my first bass instructor (Rich Glass, a total monster) who I think had one of the earlier Patitucci signature models. I was recently encouraged to look into the newer BB's by some bass player friends in Nashville who were using them – Amos Heller, Steve Cook, Jackson Eppley. The Line 6 Helix was then suggested as an alternative to the preamp and pedalboard I was using. In the era of clean stages (no amp cabinets anywhere), it's been amazing for me to use in our show and the functionality is pretty staggering. It's great for doing fly dates too because I can confidently take just 2 basses and a pedalboard case with the Helix in it to a stadium gig.
YGS: What is it that you look for in a guitar/bass?
TV: I need a bass to feel good first. If I pick it up and the neck or body is too uncomfortable, I'm pretty quick to pass on it. I also find myself shying away more and more from basses with overly complicated preamp circuits; if I need more than 2-3 knobs and maybe a pickup selector switch to make it sound good, then maybe it just didn't sound all that good to begin with. There are exceptions, of course, but that's my general rule of thumb.
NW: I'm initially drawn to a guitars design and "wow" factor, and I think the Pacifica's and Revstars have those in spades!
I'm the worst knowing the different specs of my guitars, but I know what I like when I pick it up. A neck profile like the Pacifica's is perfect for my playing style, with medium or jumbo frets. The way an electric guitar resonates acoustically has always been important to me. I've bought more than one electric without even plugging it in, just strumming an unamplified G chord can tell me pretty much all I need to know. Weight, or the lack of it, is also really important to me. I spent over a decade playing bars, weddings and bar mitzvah's, 3 or 4 nights a week, 4-6 hours a night. Having a guitar hanging on your shoulder for that length of time, you want to make sure it's comfortable. One other thing that is really important is cost effectiveness. I'm a working musician and these are my tools. I want to be able to play a guitar that is sounds good, looks good, is affordable, and that I don't have handle with kid gloves or worry about sitting in my car or in the back of a trailer.
Above all, the most important thing I look for is a guitar that is going to inspire me to pick it up every day because it feels that good!
YGs: And what about fellow musicians, who inspires you right now?
TV: I draw from a pretty wide array so that I don't get pigeon-holed. I've always been a Jaco Pastorius guy, but I'm also a big Les Claypool/Primus guy. They both have a very punk rock attitude attached to virtuosic ability that I'll always love. I'm also a big fan of all the classic groove masters like Duck Dunn, James Jamerson, Bob Babbitt, & Bernard Edwards. In Nashville right now, there are a few cats whose playing I can't get enough of too, like Jimmy Lee Sloas, Kevin Grant (aka "Swine"), Steve Mackey, and Brian Allen. There's also some dude on Instagram named Darrell Freeman (@therealfree) and a REAL young kid named Aron Hodak from Slovakia (@aronthebassist) who's bass videos generally kinda freak me out in a totally awesome way. @Scottsbasslessons is also just a great follow.
NW: The country/pop studio players are a constant inspiration, as I had to learn their parts for all the cover bands I played in, and I now have to learn the parts off of Thomas' records for work. I grew up on Joe Satriani, Steve Vai, and John Petrucci, and am really excited about modern players and bands like Andy James and Plini. As I've gotten older, my tastes have expanded and grown. I'm inspired by modern pop producers as they're always searching for the new and interesting sounds as well as classic jazz saxophonists, as they were always searching for the new and interesting notes. It's something that we as guitarists should learn from. I also teach guitar lessons and I'm constantly inspired by my students, either by their passion for the instrument, or the new music or concepts they're bringing me to help them learn. Also, Travis Vance.
YGs: And finally, what can we expect from you both in 2019?
TV: We'll be doing headlining arena/amphitheater shows in Mexico, Canada, Australia, the UK, and all across the US for Thomas Rhett's Very Hot Summer (VHS) tour. There's also a new Thomas Rhett record coming out in 2019 that we'll be doing national television promotion for. I'll additionally be working on writing & producing music for potential use in film/tv/commercials AND doing gear demos whenever I can… there will be some dressing room sessions, I'm sure! Going to be a very big year (my biggest ever!) and I'm really excited about it.
NW: More shows with Thomas and I'm currently recording and plan to release an album of instrumental guitar music in 2019.
YGs: Thanks guys! Looking forward to seeing more from you this year.
Catch Travis and Nathan live with Thomas Rhett: https://www.thomasrhett.com/tour