I believe that every guitar has a soul, not quite a consciousness but pretty close to it."
In the midst of the debut Laura Jane Grace & The Devouring Mothers album release excitement, we were lucky enough to get some of guitarist, songwriter, front-woman and transgender rights activist Laura's rare free time to chat about her inspirations, her relationship with her guitars and how her albums can be seen as snap shots of times in her life.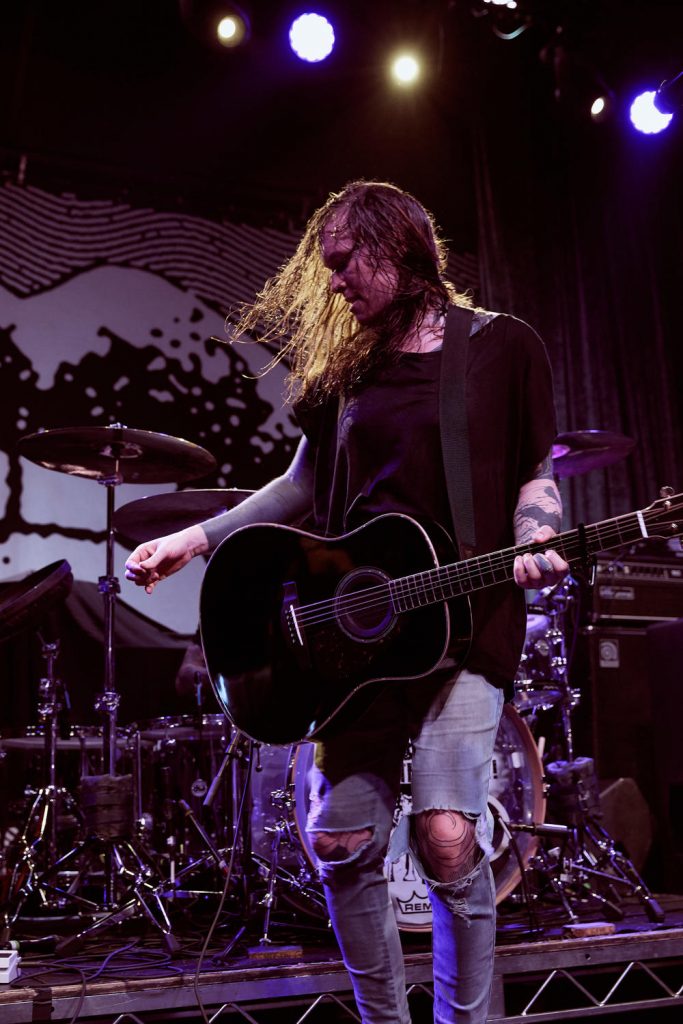 Yamaha Guitars: Hi Laura! Thank you for taking the time to chat with us. For those who have never heard of Laura Jane Grace, how would you like to be introduced?
Laura Jane Grace: Hey, I'm Laura Jane Grace but you can call me LJ. I've played guitar since I was 8 years old and have never found anything else I've ever felt as passionate about.
For the past 20 years I've played in a punk band called Against Me! and been lucky enough to travel all over the world. I'm still playing in Against Me! but also just put out a record called 'Bought To Rot' with a kind of side project band called Laura Jane Grace and the Devouring Mothers. In 2016 I released a memoir via Hachette Books called "Tranny: Confessions Of Punk Rocks Most Infamous Anarchist Sellout" which can tell you pretty much anything else you could ever want to know about me and more… maybe too much. I'm also a transgender rights activist and live in Chicago.
YGs: Who or what would you cite as your inspiration for first picking up a guitar and a pen and paper?
LJG: My Dad and Mom. Neither of them were particularly musically inclined, they didn't play any instruments but they were my first sources of musical inspiration. I listened to what they listened to. My Dad liked The Beach Boys and Willie Nelson, country and western music, not a lot of rock and roll but some. My Mom liked Tracy Chapman, The Supremes, Madonna.
They bought me my first cassette Walkman, my first stereo, and my first guitars, they paid for me to take lessons and even though they maybe didn't always understand it, they let me pursue the passion I had for music.
They were also both avid readers and passed down a love of reading to me. Reading turned into writing. I've never been much for math but I've always loved language.
YGs: Tell us about your new venture, Laura Jane Grace & The Devouring Mothers. Where did the name come from? What's the story?
LJG: The band name was inspired by the french feminist artist Nikki de Saint Phalle. She did a series of sculptures and released a short book under the name 'The Devouring Mothers', all about challenging perceptions and stereotypes of what it means to be a woman. I saw an exhibit of hers at the Guggenheim in Bilbao, Spain when I was there in 2015 and picked up the book at the gift shop on my way out. The exhibit was incredible and the title stuck with me.
A couple of years back I was finishing up working on my book that came out in 2016. I was losing my mind sitting in front of a computer screen and wanted to test out what I was writing in front of an audience so I booked a short two week tour of shows where I was doing a mix of spoken word, reading passages of what would end up being the book and then also playing songs, relevant to what I was reading, some Against Me! songs, a couple covers. I asked Atom and Marc to come with and accompany and they were into it. I realized we were a band and that we weren't Against Me! so I was like "We need a name and I know just what it should be!".
YGs: Can you tell us about the record? How does it differ from Against Me!?
LJG: The album is about wasted potential. Bought To Rot, like fruits and veggies you buy from the store and don't eat, just leave them sitting there rotting and all the good inside of them that could have helped you goes unused. Money spent for nothing. There's a metaphor for the current state of America in there somewhere.
The record was written in a lot of different places, mostly on the road traveling, thus song titles like "The Hotel Song" and "The Airplane Song" but some of it was written at home in Chicago… like the song "I Hate Chicago".
Musically it's really representative of the 3 of us. The record has been kind of a publicized as a solo album and I guess in some ways it is but also it's very much Me, Marc and Atom. I like that the 3 of us have introduced each other to a lot of music we might otherwise have not heard. I feel really honored to play with Marc and Atom, they're an incredible rhythm section together.
I've had a tough time answering the question of how it differs from Against Me!. I usually try and turn that question around on the person who asks it and want them to tell me how they think it differs. Really, every album I've ever made feels like it was made with a different band even if it's been the same 4 people playing on the records. That just speaks to albums being a real snap shot of a period of time lived.
In general though I think the Devouring Mothers record is less about politics, and more about slower song tempos. We still have a couple burners to our name though.
YGs: You wrote and recorded the new tracks with Atom & Marc, how were the studio sessions?
LJG: They were the smoothest most fulfilling studio sessions I've ever been a part of. We were really practiced and well prepared going into the studio. We didn't have time to waste and knew that we had to be. We tracked 14 songs in 7 days. All live takes, vocals were overdubbed so I could focus on the guitar parts separately from the vocal performances since I have double duty. Every morning Atom and I would wake up and run 6 miles together then we'd eat a big breakfast and start going for takes.
It was really refreshing that sometimes it actually is all actually just that easy.
YGs: You've recently added a Yamaha TransAcoustic, LL16D and Revstar to your arsenal, did these make it onto any of the new material and if so, how?
LJG: I didn't start playing the TransAcoustics until this past summer, after we had already finished recording the album but at any point you hear an acoustic guitar on "Bought To Rot" that's my LL16D. The TransAcoustic has become my favoured acoustic to play live. It's hard to find an acoustic that when you plug in doesn't sound like you're playing a ukulele coming out of the PA. The TransAcoustic has a lot of versatility with the pick up that's in it.
The Revstar I used while writing but didn't end up using for recording.
YGs: How do you go about choosing the right guitar? What is important for you?
LJG: I believe that every guitar has a soul, not quite a consciousness but pretty close to it. They have feelings, they can get angry with you if you don't treat them right. I think this is pretty reasonable considering that guitars were once trees, living things.
I think that there are guitars that are meant for certain players, that only that specific person could get that specific song out of. Sometimes you choose the guitar but sometimes the guitar chooses you.
My Yamaha Revstar is a good example of that. The Revstar isn't the kind of guitar I traditionally gravitate towards and when I got mine I probably wasn't giving it the attention it deserved. One night in the studio when we were writing for 'Bought To Rot', Marc (who recorded the album and plays bass in the Devouring Mothers) started playing this bass line… a simple line swinging between two notes. I had had a rough day, was feeling emotional, I opened up the Revstar's case and took it out, plugged it into and amp, started riffing along to the bass line Marc was playing and the song "Manic Depression" just flowed out of the guitar effortlessly. An hour later we had a completely worked out song and a pretty rad demo of it recorded. I feel so thankful when I can commune with a guitar like that. Feels holy.
YGs: Is there anything you'd like to shout about?
LJG: Just want to say thanks to Yamaha for the love and support they've shown me. I'm proud to play your instruments.
I'll be heading out on the road in North America this March and April with the Devouring Mothers in support of 'Bought To Rot', come check out a show if you can!
YGs: Thanks Laura!
Discover more about Laura Jane Grace:
Listen to…
Laura Jane Grace & The Devouring Mothers:

Against Me!:
Read…
'Tranny: Confessions Of Punk Rocks Most Infamous Anarchist Sellout': https://www.amazon.com/Tranny-Confessions-Infamous-Anarchist-Sellout/dp/…
Header image: Joe Leonard
Second image: Travis Shinn