24 year old singer songwriter Freya Ridings is one to watch. Currently storming the UK charts with her soulful single 'Lost Without You', Ridings has a sold out UK and Ireland tour to look forward to, and is the first female British singer songwriter to 100% write a UK Top 10 hit in over 6 years. A new addition to the Yamaha Guitars family, Freya took some time to talk with us about her journey, what she looks for in a guitar, and how it feels to have a crowd sing her words back to her.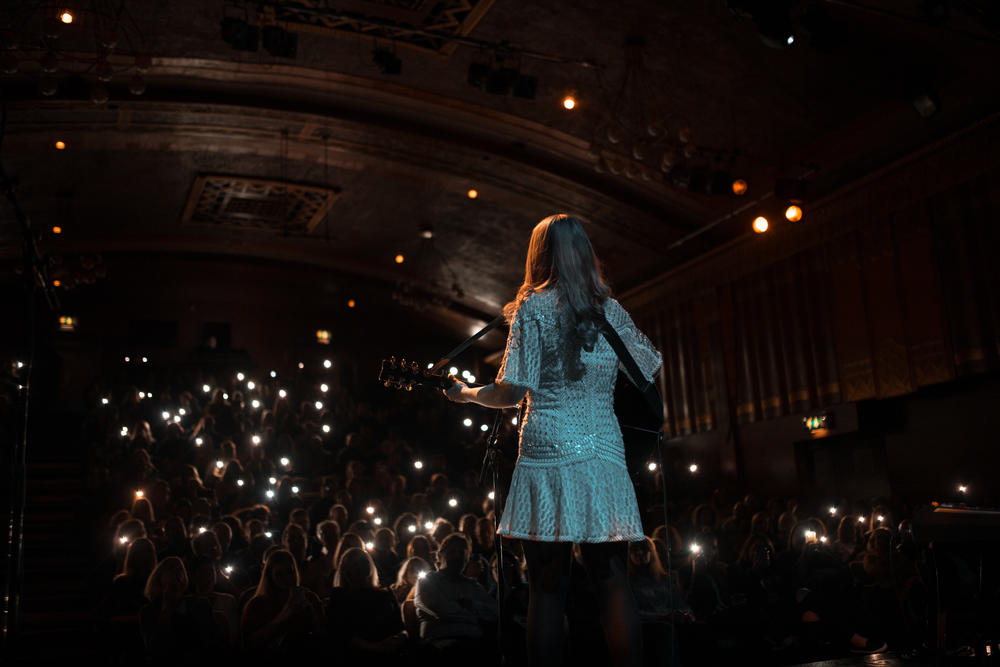 Yamaha Guitars: Hello Freya!
Thanks for taking time out for an interview with Yamaha Guitars. Let's start with an intro for those who haven't heard Freya Ridings yet. Can you tell us a bit about yourself and your background – Who is Freya Ridings and what's her story?
Freya Ridings: Thank you for having me! I grew up a shy, tall redhead in North London and struggled hugely at school with dyslexia. After my music teachers gave up on me for not being able to read music I started writing my own songs by ear. There was a lighting bolt moment where I played an open mic night at my school and that's when I started playing live around London. After almost 10 years of writing and playing a friend from school gave my CD to an indie label who I started to release music with just over a year and a half ago now. It's been quite the journey!
YGs: Who do you count as your early inspirations as an artist? Any guitarists / singer songwriters whose style has inspired you?
FR: Watching my Dad's love of guitars and writing songs was my biggest inspiration growing up. He used to teach me chords so I could play my favourite Avril Lavigne songs. He also adored John Martyn and used to leave guitars with different tunings scattered around the house which is one of my fondest memories.
YGs: What was the first trigger for you to pick up a guitar?
FR: After stealing my dad's guitars growing up he bought me my very first cherry red acoustic guitar for my 11th birthday and that was a life changing moment.
YGs: You've just recently come on board with Yamaha, and are playing an LL16D. How are you finding this so far? And how does it fit into your rig?
FR: It's honestly a stunning guitar and I'm so excited to take it out on tour over the next few months. The action is great for finger picking which is one of my favourite styles to play.
YGs: What is it that you search for in a guitar?
FR: A warmth, feel and action that adds to the overall show is crucial for me in choosing an acoustic guitar. I also love the black gloss shine of the LL16D
YGs: Congrats on the success of 'Lost without you'. The single is doing really well in the UK charts, you've received a lot of buzz from Spotify, Apple Music and YouTube and have sold out UK and Ireland shows. What has it been like touring in the midst of all this hype?
FR: It's been such a gradual building feeling of excitement over the past year and you sometimes have moments where it hits and you just feel so much gratitude. Working with a great band and team really makes everything possible. You can feel the shift and we're now playing sold out shows around the world. When a crowd sings the words I wrote alone feeling heartbroken in my front room back to me, it's a very surreal and beautiful thing.
YGs: While you're out on the road, how do you capture song ideas whilst on the go? What's your process when out of the studio?
FR: Voice memos are everything to me! I try to capture as many ideas on and off the road as possible but it's definitely easier to write on my Yamaha upright piano at home. Having a guitar with me on the road really helps with writing in hotel rooms and on the tour bus.
Discover Freya's music:
Spotify:

Tidal: https://listen.tidal.com/artist/8680700
Apple Music: https://itunes.apple.com/us/artist/freya-ridings/1225659793