Over the course of her career, Colombian singer-songwriter and Grammy winner Shakira has sold over 60 million records worldwide and has won numerous awards including two Grammys, eight Latin Grammys, and several World Music Awards, American Music Awards and Billboard Music Awards. To add to that, she is the only artist from South America to have had a number one song in the US, and her 2006 hit single 'Hips Don't Lie' not only went Triple Platinum but was also downloaded 13 million times – making it one of the best selling singles of all time.
Currently out on her El Dorado World Tour, Shakira was looking for a guitar to match the tour's visual theme – gold. With a Yamaha Revstar already in her rig, we took up the challenge. Yamaha Guitar Designer and Luthier Pat Campolattano tells us the story…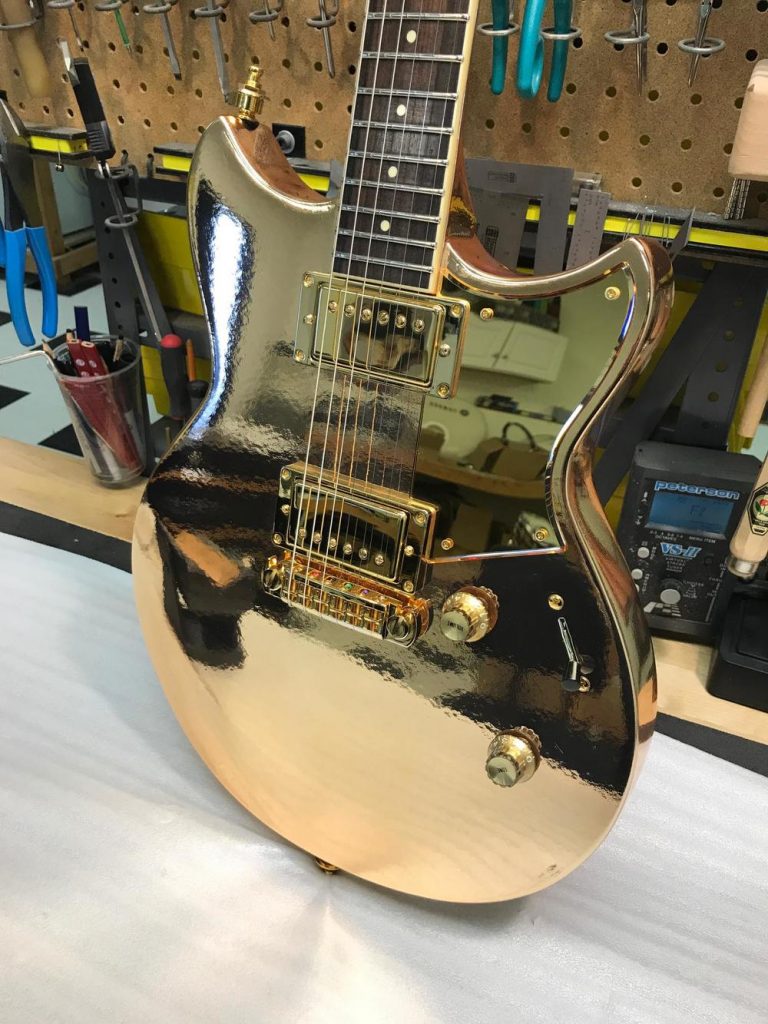 Pat Campolattano:
The project came about when we heard about Shakira's new El Dorado tour from her tech Drew Foppe. Shakira was already playing a Revstar, but really wanted a guitar that looked like it was dipped in gold. Drew had already wrapped a stock Revstar with a gold wrap but wasn't 100% satisfied with the result, so we started work on figuring out how to make it look just right.
The most difficult part is that is the finishing process to turn everything gold involves a really fast chemical reaction that has to happen perfectly. It goes from grey to bright gold in about 15-30 seconds, and if you miss a spot, or do it improperly, you have to start all over again! The next level of difficulty is that the guitar is a set neck, so we had to do the whole body and neck in one shot. It took a few tries, and we worked together with a company called SetMasters to develop the perfect process.
The core of the guitar is like an RS820, and we dialled it in for Shakira using Lollar Imperial High Wind humbuckers, Gold hardware from Tonepros and Grover, and classic gold Yamaha SBG knobs. The gold pickup rings and Gold Mirror pickguard, backplate, and truss rod cover really make it over the top. It was the first time for us doing a finish like this, so it was great to see her play it on stage!
Image: Xavi Menos
https://www.instagram.com/imxavimenos/?hl=en