Long beach Rockers Scott Holiday, David Beste, Jay Buchanan and Michael Miley aka Rival Sons have been blasting out "sunkissed psychedelia and irresistible hooks" (The Guardian) since 2009, with a huge global fan base who give it their all at their electric shows. The intention of Guitarist and founder Scott Holiday, in his own words, is –
In an ideal world, I want our records and live shows to envelop the listener to the level of forgetting daily worries. Just be free and lose (or FIND) yourself in the music."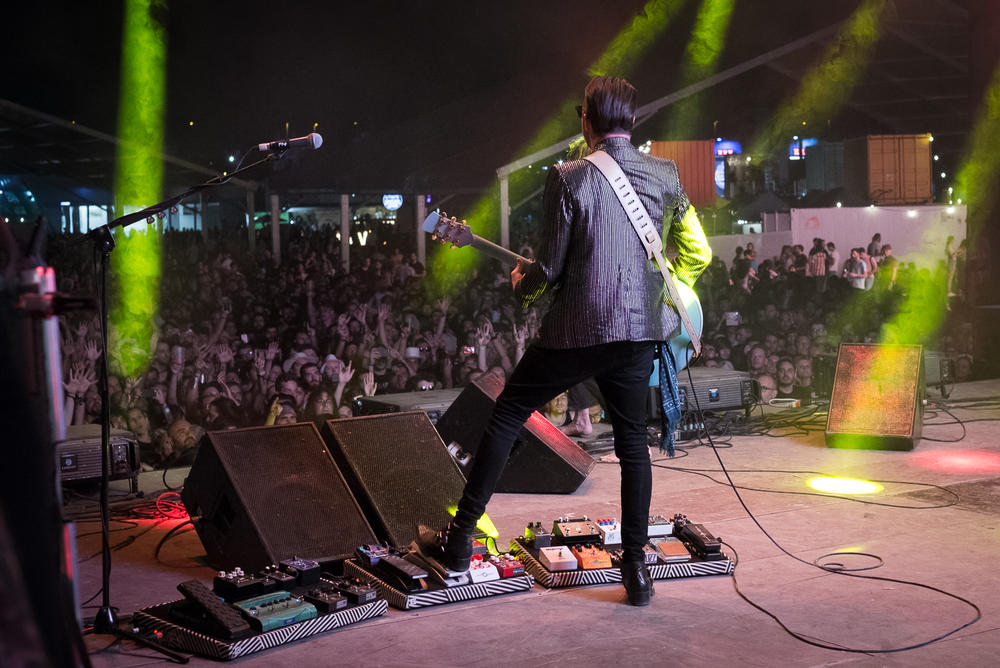 A Yamaha Artist since 2015, Scott has an LL56, A5R, FG180-50TH and customised Revstar RS502T in his arsenal already, but was looking to add something unique. This is where our own guitar designer and luthier Pat Campolattano came in.
Pat Campolattano : "Scott came to hang out with us a few times and talked about his favourite aspects of a bunch of guitars he really likes. He liked the shape of the Revstar and has used one that I customized for him on the last record, but he wanted a hollowbody and for the guitar to be larger overall; something uniquely styled, but with a Yamaha influence as well.
Hollowbodies have an amazingly fat tone with unique clarity and note separation. Scott uses them to his advantage on stage by harnessing the feedback they can produce when standing in front of a large amp, and they fit well in the mix with Rival Sons. When it comes to his style, his playing, his tone, the key word is BIG – he's got massive tone and chops to match! So we took his challenge, and tried to come up with something that stayed true to the original RS design, and brought it to a new level.
When we spoke, there were a few requests that were table stakes. He wanted the guitar to be deeper than usual, a huge headstock, a specific neck shape, and TV Jones Powertrons were a must. While we were in the shop, he saw a classic Yamaha SA-15 hanging in the showroom, and really loved the inlays, so we added those as well. Originally we were going to paint the guitar Sage Green metallic, but Scott gave us a call before we started painting and he requested a really old school Sonic Blue nitro we mixed up here in the shop. We did a multi ply sparkle binding and made it pop with custom acrylic/metallic gold pickup rings, pickguard, and truss rod cover to match the gold hardware and Bigsby Tailpiece.
For its exterior, the guitar seems like someone took a Revstar and just enlarged it, but really it's a totally unique instrument. The proportions had to be massaged and stretched all over, and every piece had to be redesigned. I had to come up with some F holes to match – I probably did 15 different designs before we presented anything to Scott.
The top and back are made from vintage-spec Maple/Poplar/Maple, mated to a solid core of 3 pieces of Mahogany/Maple/Mahogany that is machined out almost completely, leaving a rim, a neck pocket, and two rails for the bridge/tailpiece to be set.
The most unique aspect of this guitar is the dovetail puzzle piece neck joint and how the neck itself is machined in a unique way; it extends beyond the neck pickup about 2 inches and is shaped like an hourglass so it cannot move in any axis after installation. It adds stiffness to the neck, and increases surface area for the neck and body to mate together so it can ring like one solid piece. Before I glued the neck in, I strung it up and fit the bridge with only a single screw that is used for the strap button behind the heel. It had great note clarity right out of the gate, which gave me confidence that we could meet Scott's standards.
I was a fan of Scott and Rival Sons' sound years before we first met. He was asking for the type of guitar I love to make, so it was an honour to work together and to make an instrument for someone whose music I really respect. I hope he plays the hell out of it and it comes back with dings and dents all over the place. Then I'll know I did a good job!"
We caught up with Scott at their Mad Cool Festival set to see how the "Big Daddy" Revstar was fairing…
Scott Holiday: "This "Big Daddy" Revstar started out as an idea that I didn't think could even happen. The process, although extremely detail oriented, was really easy and fun…and what came out of it definitely exceeded my expectations! Here's the bottom line – I take quite a few handcrafted, insanely great guitars on the road with me – good ones, the best ones – and I gotta say my Yammy Custom big daddy Revstar fit in fantastically! Not only aesthetically, but its individual tone and great playability. It's just a great, great guitar. For those of you who follow me or the band and come to our shows…you'll be seeing this guitar on stage every night. And really, that's the ultimate testament. Fantastic job, Pat, Scott Marceau and the Yamaha folks!"
Check out Rival Sons' latest album Hollow Bones and find out where you can see Scott and the "Big Daddy" Revstar live:
https://www.rivalsons.com/