"My career comes with a lot of hyphens." – Australian-born, Nashville-based singer-songwriter, multi-instrumentalist and Yamaha Artist, Katie Cole took some time to talk to us about her musical beginnings, inspirations and playing with The Smashing Pumpkins.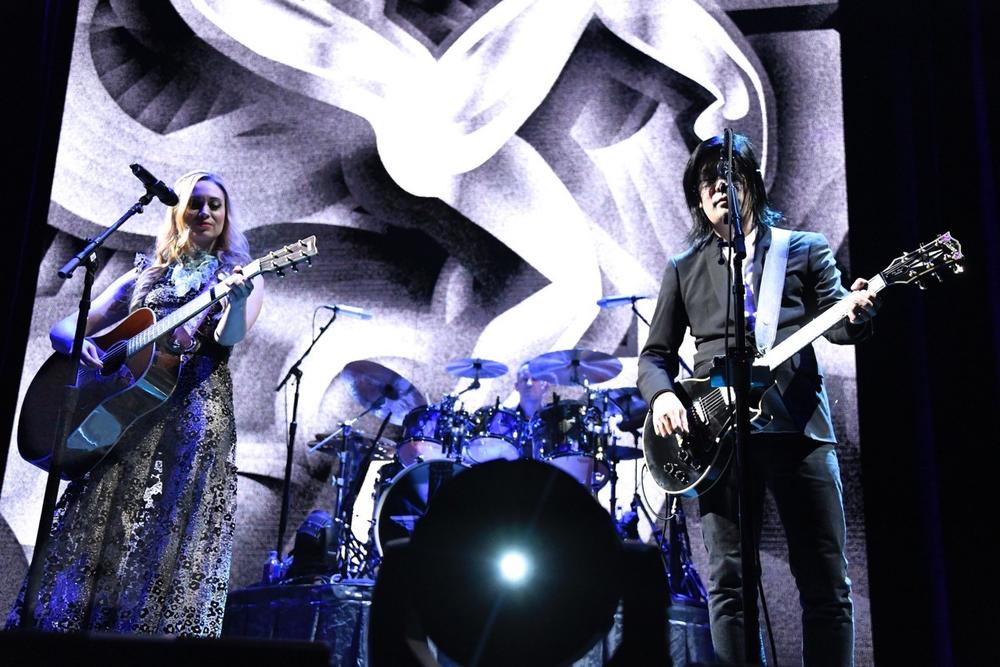 Yamaha Guitars: For those who haven't heard you before, who is Katie Cole?
Katie Cole: I'm an Australian-born, Nashville-based artist. I'm a songwriter, multi-instrumentalist, recording artist and I'm currently on my third tour as a musician with The Smashing Pumpkins. This tour I'm playing keys and singing. As an artist, I consider my genre to be Singer-Songwriter/ Americana. My career comes with a lot of hyphens.
YGs: How did you first get turned on to the guitar?
KC: I first taught myself to play guitar when I was 14. My mum bought me an extremely terrible electric guitar (sorry Mum) and I played for about a year. I started playing live gigs when I was about 16… so I picked it up again more seriously when I was 17 as an accompanying instrument for gigs. When you are playing live in front of people, you get good, fast.
YGs: Let's talk musical inspirations. Who inspired you when you were first starting out, and the same question for today?
KC: I grew up in a VERY musical household. When I was little it was a balance of classical on my Dad's side to rock, blues and soul on my Mum's side. So I was shown a very diverse selection of music and I immediately loved The Beatles, Aretha, Stevie Ray Vaughan, Eurythmics. In my teens I was all about Sheryl Crow and Soundgarden and bands that had powerful vocalists. Now I tend to listen to a lot more singer-songwriters and Americana music: songs with stories and lyrics. This means Jason Isbell, Patty Griffin, Emmylou etc but also looking forward and backwards in time to discover or re-discover new music. I really love the new Bishop Briggs release. Her voice is a powerhouse.
YGs: How did you get involved with the Smashing Pumpkins?
KC: Billy Corgan and I share a mutual connection being Howard Willing who has produced my last few musical offerings. But Willing also worked with Smashing Pumpkins on albums like Adore, Machina back in the day. Corgan and Howard have a long standing friendship & working relationship up til today. So Corgan knew about me through that connection and asked me to open up a solo show at Ravinia Pavilion in Chicago. I said "yes" that and it was an incredible experience. Then Corgan asked me if I wanted to open up shows for the 2015 In Plainsong Acoustic-Electro tour. I said "yes"…and that tour had me on double duty also playing bass on a few songs and singing too. Then the second and larger leg of that In Plainsong tour happened in 2016 and I was asked to play bass and sing on that tour also. I said "yes". On that tour I sang lead on a couple of songs including "Stand Inside your love" and Hole's "Malibu" which Billy Corgan co-wrote. I must also add I am not a bass player. But I play extremely solid guitar and have great timing. So this wasn't a huge stretch. And this reunion tour in 2018 has been in the making for a very long time. Billy asked me to play keys and sing on this tour. Piano was the first instrument I taught myself. So I said "yes". Jack Bates, son of famed bass-player Peter Hook (New Order, Joy Division) was set to play bass. He's fantastic. So now I'm playing keys and acoustic guitar on this tour. As you've worked out…. I just say "yes" to anything Corgan asks and then I work out the rest as I go. haha
It's been incredible as my bucket list gets another couple of checks. I get along really well with everyone in the band. And I'm always learning something new. It's really an amazing thing.
YGs: How has the tour been so far?
KC: Fantastic. I mean… we played my hometown Nashville show at Bridgestone arena, a SOLD OUT show at Madison Square Garden…and a 30th Anniversary show in New Jersey with guests Peter Hook, Courtney Love, Mark McGrath of Sugar Ray and more. It's been incredible as my bucket list gets another couple of checks. I get along really well with everyone in the band. And I'm always learning something new. It's really an amazing thing.
YGs: What gear are you playing on the tour?
KC: For the tour, I'm playing a B3, a Mellotron and a Yamaha Clavinova for a few songs as it has an incredible grand piano sound. I'm playing the LL16 on a song with James Iha called "Blew Away" where I come upfront and play it with him. It's a classic dreadnought shape in a wine/brown color. Because guitars need to be pretty too!!! I also played that guitar during the last tour, so there are videos of "Malibu" where I'm singing and playing the LL16. And I got to play it again during the New Jersey 30th Anniversary show as Courtney Love sang it there too. It's a really versatile guitar with a passive input. So no feedback…..ever. The neck feels like a familiar friend. Great all-rounder.
YGs: You've just brought out a new single, what the story behind it?
KC: This is a really personal song called "Time On My Hands" from my upcoming EP Things That Break Pt. 1. It tells the story of heartache and having no choice but to give in to the feeling and wait it out. Maybe there is a bigger picture, maybe there isn't, but being honest about your pain is really hard to do. So I wanted to capture that moment of time. Time waiting for the hurt to pass and time on my hands, praying for it to pass. I'm an ambiguous writer and I like to leave all deeper and layered meaning to the listener.
YGs: Anything else you'd like to add?
KC: My new EP Things That Break Pt. 1 produced by Howard Willing is going to be released shortly. I'm currently selling advanced copies at the merch booths on this Smashing Pumpkins tour. It will be available to pre-order on iTunes etc in a couple of weeks and released everywhere September 28th.
Check out Katie's Music on…
Spotify:

Apple Music: https://itunes.apple.com/us/artist/katie-cole/282916642
Images: Richard Shay www.richardshay.com