It's the annual Reeperbahn Festival in Hamburg, Germany; every September artists, fans and industry insiders from all over the World flock to the country's second city to see lectures, shows and whatever's shaping the music industry. With a special focus on emerging artists, it's a great place to discover new favourite bands.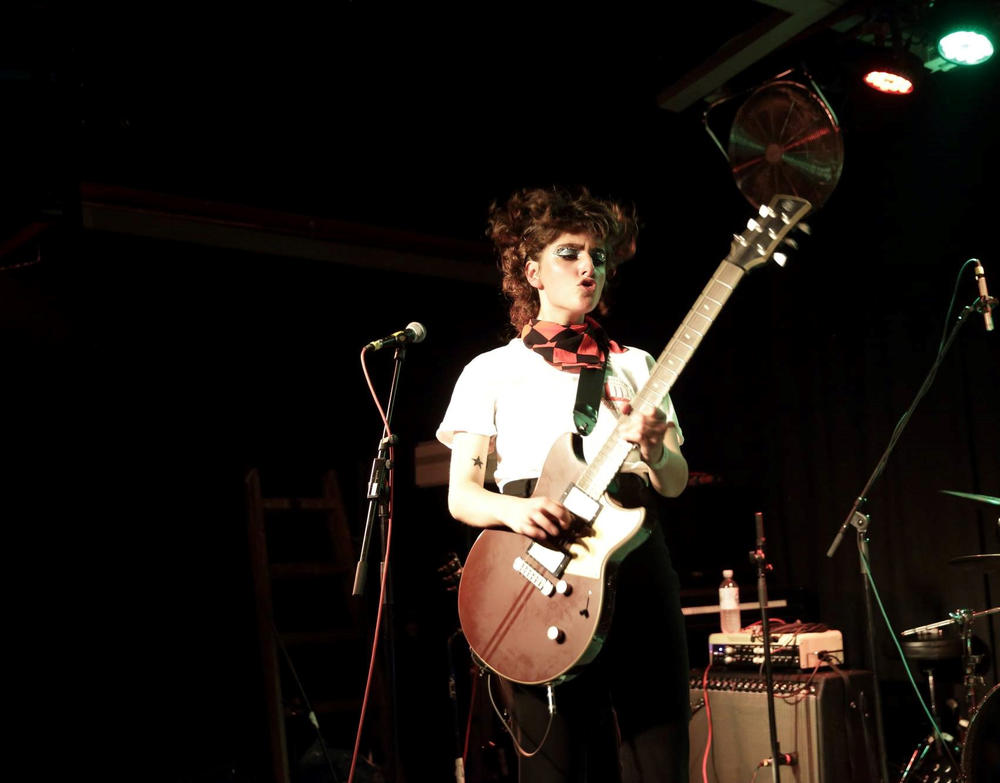 Yamaha Artist Noa Lachmi travelled to the legendary part of Hamburg's St. Pauli district from Denmark with her band Velvet Volume for their first international show (…and second… and third. In 3 days…).
Noa squeezed us in to her festival schedule to chat Revstars, playing in a band with her sisters and recording the theme for an iconic cartoon series…
Then there's the booster, which is really great for when I play solos and it needs to get really loud."
Yamaha Guitars: Hello Noa, thanks for joining us! Let's start off by describing Velvet Volume for anyone who hasn't heard you before…
Noa Lachmi: It's always quite difficult to talk about yourself, it's not like a thing that we are really aware of – it's not like we wanna be like this or that, we just are. We play rock music – poppy, melodic melodies with heavy guitar riffs and simple but unique drum beats.
Together we're a dynamic band because we've played together since we were small kids, and we've developed a sound which combines our own specific ways of playing. When I play guitar, I'm very aggressive – very simple, but loud riffs. When we combine our styles then we become Velvet Volume.
YGs: You had your first live show together in 2013, but being sisters how long have you been jamming together?
NL: Yeah, that was our first show as Velvet Volume but with friends and family, school concerts, we've been playing in bands since we were little kids.
YGs : Have you always agreed on music styles?
NL: We've never sat down and discussed and agreed "ok, we want to play rock!". We listened to classical music, pop music, jazz, but it just happened.
YGs: We're currently here at the Reeperbahn Festival which is kind of Hamburg's answer to SXSW, with lectures and shows across the city. There is a huge focus on international, emerging artists. How is it for you to be a part of this?
NL: It's really crazy, but also about time I think. Naomi (bassist) and I graduated from school last year, and Nataja (drummer) is still in school, with a year to go. We really want to get out of Denmark, we love it there but want to get our music out to the rest of the world too. With school, we have had these restrictions – we couldn't just head out on tour to Germany or UK or wherever. So now we're finally here and ready to do some international stuff! It's really great to be here.
YGs: Is there anything in particular that you'd like to get from this experience? Is this an opportunity to meet other bands and industry people?
NL: I think the goal with this is to see how people in Germany react to our music because we have only ever played and had reactions from crowds in Denmark. People in Germany love rock music so that's really nice. We're really excited to see how the crowds react.
YGs: And you had your first of 3 shows last night. How was that?
NL: Oh my god, it was really great. Really, really great. Lovely crowd. We hope we can come back to Germany in 2018 for a tour.
YGs: As an industry things have changed in terms of how people listen to music and interact with artists. With everything available at a click with streaming sites so how do you plan to make Velvet Volume stand out? Does social media play a big part for you?
NL: I think there's a clash inside of my head, because we are really old school in ways to promote our music. We want to do albums; we've just finished our debut album which is 12 tracks and that's quite unusual now because everyone is just making EPs. That is the modern form of releasing your music, so that part of recording and releasing we are more about the old school way. That's what we love about our favourite artists and albums.
But social media on the other hand is really cool because it's a lot easier to promote yourself and develop your visuals and your appearance. It's also cool that people can see our development through the years – it's like a diary, seeing what we're doing and what we've done in the past.
YGs: You mention appearance, is design, lighting, image etc an important part of the band identity? Is that something that you see as a big part of the band?
NL: I think so. We've been focused on that part because we all think that's a fun element to play with – your appearance, your make up, what you're wearing. Just now we have the time and the energy and the mindset to develop that because we've been had years of perfecting our sound.
YGs: What about touring? Is this a big part of making your band stand out?
NL: Totally, because we feel as well as being a band that are nice to listen to by yourself at home or wherever, we feel it's also very important to deliver great live shows too. We really are a live band so our shows are very important. We want to tour and gather a lot of fans all over.
YGs: So let's talk guitars! What is important for you in a guitar? What is the first thing you look for?
NL: This sounds dumb but the look of a guitar is very important to me. It's got to look right. Then it has to be easy to play. I only play with 2 sounds when we play live = overdrive and more overdrive, oh and boost – more overdrive. It just needs to be very raw and old school sounding.
I have a real close connection to my guitar, you know it's something that I'm very comfortable with..
YGs: You have 2 Revstar RS820s. What attracted you to the Revstar?
NL: The sound and the appearance. I think it's really cool that they are inspired by the old Yamaha bikes, and it just has a really nice sound, a very warm and thick sound. We're only 3 members in the band so it can easily get very small…
If I play a Fender guitar, then it's a really awesome sound but it only works out if you have two guitarists. Because I play the rhythm guitar and the lead as well, I need to combine them; the Revstar gives me the ability to mix those two.
YGs: You also use the THR Head. How does that fit into your set up?
NL: Like I said before, I've got two channels for 2 sounds – 1 more rock and roll-ish sound and a more heavy sound. It's really easy to manage because I can switch between those two with no need to fiddle around with it.
Then there is the booster which is really great for when I play solos and it needs to get really loud.
YGs: You've recently gone wireless with the Line 6 Relay G70. How do you get on with that?
NL: If you asked me a few years ago I would have been really antsy about the whole wireless thing because I thought it was not so "rock n roll", but then I tried it once and I couldn't go back to cables. It is just so awesome to jump around the stage and not worry about tripping over everything.
YGs: So your debut album 'Look Look Look' has just been released, how was that recording experience for you?
NL: Actually I think it was quite hard because we really love a simple and intuitive sound and it can't be something that we dig into too deep because it has to just happen, to play and to maintain that much energy in the tracks. We think is the charm to our sound is that it is very raw and simple.
But it was really fun too to get all the songs that you've been writing over the past years to see them as a record.
YGs: Great! Thanks for taking the time out. Is there anything else you'd like to shout about?
NL: Check out our new album 'Look Look Look' – We have a Danish tour coming up, then we'll be back in Europe in 2018!
Listen to Velvet Volume 'Look Look Look'

Follow their adventures on…
https://www.facebook.com/velvetvolume/
https://www.instagram.com/velvetvolume/
#YamahaGuitars
Yamaha.com/Revstar
Record Store photo: Sebastian Vistisen Toft.
Live photo: Sara Lindbæk